Enjoy the Charm of Supertunia? Daybreak Charm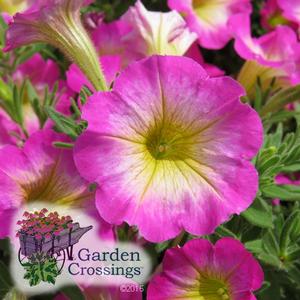 Nothing is more welcoming than the beauty of a vibrant sunrise at daybreak. Take that beauty to the garden with the vibrant color of Supertunia? Daybreak Charm Petunia. This Charm series of Supertunia? displays colors as vibrant as the sunrise, The bright pink flowers with a sunshine yellow center that is separated by a thin white margin. A refreshing mix of color to add to your garden, plant by itself, or in a combination container or hanging basket of your choice. This new 2016 annual is a favorite of mine.
If you plant Supertunias? every year because you love their drought and heat tolerant qualities, no deadheading needed, beautiful color and ability to attract butterflies and hummingbirds, you will want to plant Supertunia? Daybreak Charm Petunia this year. It blooms a bit smaller flower than petunias but still will not disappoint. 'Daybreak Charm' can hold its own with its show stopping color. To make a stunning contrast or 'pop' of color, try pairing 'Daybreak Charm' with Supertunia? White. To blend or compliment the sunshine yellow of 'Daybreak Charm', try pairing it with Supertunia? Limoncello.
Some ideas for using this stunning Supertunia? 'Daybreak Charm' are planting it alone or with other Petunias in hanging baskets or combination containers. Supertunia? 'Daybreak Charm' can be planted with Supertunia? White Petunia as a double combination or with Supertunia? Limoncello Petunia as well, as a double combination. If you like the triple combination, you can plant this trio together. All of these Petunias are full sun/partial shade loving plants that are drought tolerant and grow in moderate to dry soil conditions. A likeable attribute to these flowers is that they have butterfly and hummingbird attracting qualities. You will enjoy the blooms these Petunias produce from late spring or early summer through fall. Supertunias? are hardy in zones 10-11.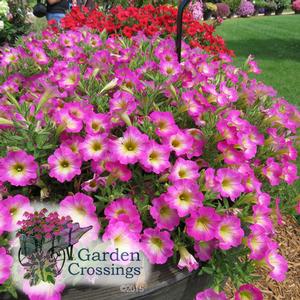 Supertunia? 'Daybreak Charm' grows 8-12" tall and spreads 24-36". 'Daybreak Charm' can also be planted as ground cover. It is recommended to trim this Petunia to the bottom of your basket or container around mid-summer to encourage better branching and fresh blooms. However you chose to plant this 'Charm', it will definitely be a favorite in your garden.
Whether you chose to plant Supertunia? Daybreak Charm alone or in combination with one or more of the other Supertunias? mentioned, I know you will not be disappointed by this annuals bright, vibrant color and growing qualities. When I saw Supertunia? Daybreak Charm in the trial gardens, it made an impact on me as well as everyone at Garden Crossings.