Our Average Daily High Temp for March is 45°F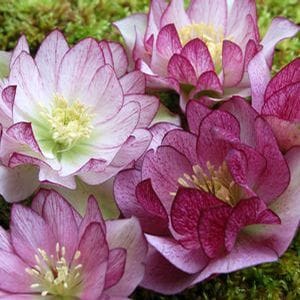 Outside activity picks up in March as the garden awakens from its long winter nap. Spring bulbs are beginning to bloom – snowdrops, crocus, chionodoxa, and others – and leaf buds are swelling and beginning to open on shrubs and trees.
Along with the warming temperatures, the longer daylight hours are what signals many plants to begin growing again. You'll notice this in your houseplants, too. Though the inside temperature has likely remained the same, they respond to the longer days by putting on growth a little faster. This is a good time to repot those plants that are outgrowing their present containers. Be sure to use fresh potting soil and unless it already has fertilizer added to it, you can now resume your regular feeding schedule.
You may want to start some seeds inside during March. Things that have a long growing season, such as onions, leeks, tomatoes, eggplants and peppers, can be started now. They'll need plenty of light, so a south window is ideal. If you have room, you can also use inexpensive shop lights with fluorescent bulbs as a light source.
There are a number of annuals and perennials you can start early from seed as well. Read the seed packet to see how far ahead of the last frost date the seeds can be planted to determine when you will start them. Here, the last average frost date is May 20th.
Several seeds, both flowers and vegetables, can be direct sown outside as soon as the ground can be worked, even before last frost. A light raking of the garden soil bed is usually adequate and some flower seeds can simply be sprinkled on the surface. Again, read the seed packets for detailed information. Peas and potatoes can generally be planted around St. Patrick's Day.
Remove the mulch from around rose bushes once the nighttime temperatures are consistently in the 30s. Prune rose canes to one inch below winter kill. This should be obvious as most roses will be showing signs of growth such as tiny green buds at leaf joints. You can fertilize roses now, as well as rhododendrons and azaleas.
If you have nesting boxes for birds, make sure you clean them out by the first of March. Migration has begun and you never know exactly when guests will arrive at your avian hotel.
To-Dos:
Repot houseplants that may have outgrown their containers and resume feeding schedule
Start seeds inside if you want to get a head start on some vegetables, annuals and perennials
Remove mulch from around the base of roses and trim away winter kill on the canes
Fertilize roses, rhododendrons and azaleas
Make sure bird houses are cleaned out for new spring residents
Watering Info:
As some plants begin to wake up from their winter's nap, they will begin to use more water.
As the remaining snow melts and the spring rains begin nature usually provides enough moisture for the plants here in the Midwest.