Burpee Home Gardens®
Home-Grown Herbs & Vegetables
Reap the rewards of growing fresh vegetables, fruits and herbs. Choose from an extensive assortment including tomatoes, peppers, celery, beans, melons, strawberries, basil, cilantro, dill, rosemary, plus many more. Perfect for your large garden or patio containers.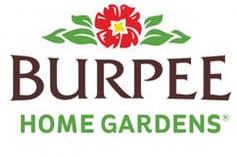 Full Sunlight, Cherry Sized Tomatoes, Packed Full of Vitamin C

Sweet-Tart Flavor, Beautiful Golden Fruit, Great for Snacking

Sweet Grape Tomato, Produces Abundant 1" Globes, Full Sunlight
Graet for Cooking, Full Sunlight, Ripens from Inside Out

Ripe Fruit Earlier, 55% more Lycopene, Full Sunlight

Full Sunlight, Earliest Producing Variety, Deep Red Color
High Yields, FUll Sunlight, Perfect for Garden or Patio

Extra Large Fruit, Early to Fruit, Compact Plants
Easy to Grow, Full Sunlight, Virtually Free of Pests and Disease

Part to Full Sun, Edible for Felines and Humans, Indoor Herb

Rainbow of Color, Full Sunlight, Intermingles well with Annuals
Full Sunlight, Large Yields, Vigorous Grower

Full Sunlight, Fragrant Culinary Herb, Prefers Substandard Soil Condit...
Added Boost of Vitamon C, Spicy Flovor, Full Sunlight

.Mild Hot Pepper, Perfect for Stuffing and Salsa, Full Sunlight