The Lupine Story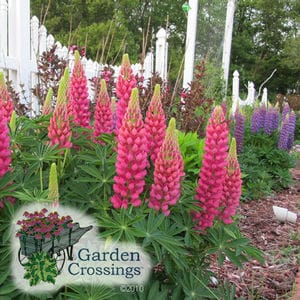 On days when I am working in the retail garden center at Garden Crossings, I will often get asked "What is your favorite perennial?". To that my response is "Every week something different is flowering so it is hard to choose a favorite.' But with that being said I do have one that reminds me of hope for each new season.
The perennial that gives me hope for a new season are Lupines. In the spring when the ground and gardens are still quite brown and bare they are an early reminder that spring is here and the gardens are waking up. The flower that greets me with a smile each spring is the Lupine. What is it about Lupine that really makes me happy? Is it childhood memories? No, we never had a garden. Is it the beautiful scent? Nothing really stands out there. I think the thing that I most like about the lupine is the tall, thick spikes of flowers that are clustered all over my garden. One plant gives off so much color and joy. The variety of blooms give me an array of garden color right off the get go. Patches of reds, blues, purples, yellows and whites, Lupine give me and my garden great delight. An American native, Lupinus can be found on the hillsides and valleys almost all over the United States in early to mid-spring. The rich colors attract hummingbirds and butterflies that dance with delight. Planted in mass, Lupines give a large display of color. Or if space is an issue, one planted as a specimen plant can be just as stunning.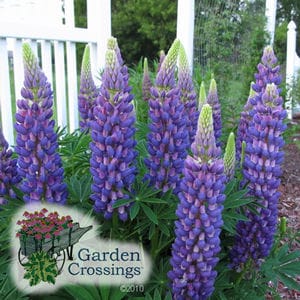 It is not by trial and error though that I have Lupine growing in my garden. I had tried several times to grow the Lupine in a rich, well-watered area. For a couple years I tried and they would never come back. Then I tried a new location, a location that was not ideal in my opinion, it was dry and in a hot, sunny spot. Yes! I finally found a happy home for my plants, and not only did it like the new spot, it loved it! It loved it so much in fact that it spread, my Lupine were spreading their seeds. I now have Lupine in places throughout my garden that were placed not by my hands but by God's. I stopped trying to make them grow in a location that was not for them, a location that I thought was prime real estate. Maybe you are like a seed, waiting on just the right conditions, you have tried to find a place to put down your roots and they are not taking hold. You are looking at prime real estate and you should be looking elsewhere. Stop trying on your own, let His hand guide you to just the right spot. In just the right spot your roots will flourish and grow and you to will be able to have new life and bring a smile to someone's face. Are you a Lupine in the garden of life, bringing a smile to someone's face?