Savvy Succulents for the Home or Office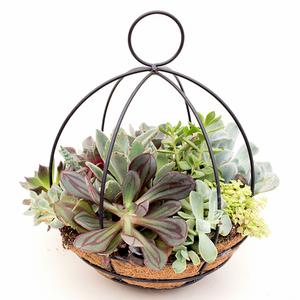 Succulents are so popular right now for any age group. Whether for home décor, the office or even in your dorm room or apartment, succulents are easy to grow and fun to have around.
Garden Crossings has just released a large selection of succulent planters with a wide assortment of colors and textures.
Enjoy this beautiful arrangement of colorful assorted succulents arranged in a black metal hanging sphere for your indoor and outdoor garden décor. This unique arrangement of fresh succulents is perfect for both indoor and outdoor décor. Succulents are drought tolerant and do well in full sun locations outdoors or in bright light locations such as sun porches, near windows or under a lamp indoors. These easy to care for assorted succulents are nicely arranged in a black metal sphere that can easy hang or set on a flat surface. This great arrangement sets perfectly on your table, desk, kitchen counter, or can be hung, easy to care for succulents add interest to your indoor décor.