Why Should I order Early?
As a 20+ year veteran of the horticulture industry, I am privy to some "behind the scenes" information that helps me understand why things work the way they do in this business. I am also a consummate skeptic. When most businesses tell me to Order today!, an audible "humph" can be heard under my breath. 
So why would I, as a seasoned gardener, place my own plant orders for spring on a snowy day in January? It's because I can tell you assuredly that the plants I really want to get this year will long be sold out if I wait much longer to order them. Many longtime gardeners will back me up on this. When a place like Garden Crossings tells me to Order today!, I actually listen.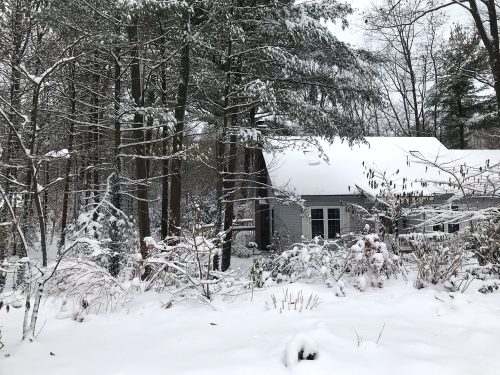 But it's too early, you say. I'll just wait. OK, but don't say I didn't tell you!
Do you know about the "spring shuffle"? If you are new to gardening, this concept might be new to you. Here's the thing: you have to be willing to dance the spring shuffle if you really want to get the good stuff.
According to the spring shipping schedule my order from Garden Crossings will ship the week of April 26th. Since I live in a cold zone 6/borderline zone 5, that's about four weeks before I am able to safely keep my annuals outdoors in an average year. Perennials and shrubs can be acclimated to the outdoor temperatures a couple of weeks sooner. So, when I receive my new plants in late April, I will do the spring shuffle with them until it is safe to move them outdoors permanently.
The spring shuffle entails moving your plants outdoors during the day when the temperature rises above 50°F and moving them back indoors or into a protected area that stays above 50°F at night. Particularly cold sensitive plants like begonias, basil, coleus and caladiums can be grown indoors in a well-lit area 24 hours a day until it is safe to plant them outdoors.
Last spring, I got smart and bought some portable plastic shelving to set up in the brightest room in my home. I kept the plants I purchased early in the season on these shelves and on tables I set up there temporarily. I also brought in a grow light to this room for that duration. Grouping the plants together in the carrier trays I've been collecting in my garage for years helped to make shuffling them in and out every day much easier. (Admittedly, I am a bit of a plant hoarder. Surely your space won't look quite as crazy as mine!)
Why is it worth all this effort? I was able to get every plant I wanted for my garden, down to the specific cultivar. Since I am very particular about what I grow, it is definitely worth it for me. If you are not as choosy and will be happy with any nice plants you can find when you are ready, go ahead and wait. Just don't say I didn't tell you! 
Get started: