7 of Our Best Evergreen Shrubs for Privacy Hedges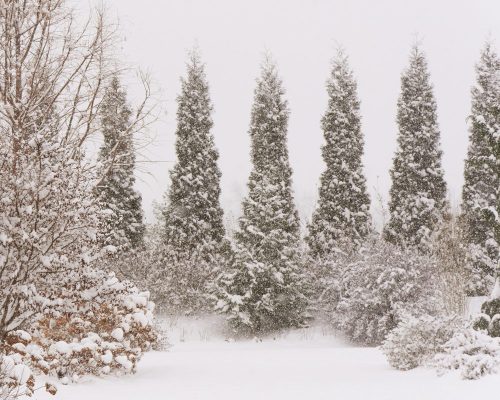 If you are looking for a hedge that stays green all year, or one that will afford you a greater degree of privacy year-round, you've come to the right place. We're sharing seven of our best evergreen shrubs for creating privacy hedges in your landscape here. With a mix of shrubs for sun and shade, you're sure to find something to fit your needs.
Evergreen hedges are easy to maintain as long as you choose the right kind for your space. Those we're recommending below don't require much maintenance to thrive. Though they won't mind pruning, they should keep their dense shape without the need for shearing as long as their sunlight requirements are met. If deer are an issue in your landscape, pay close attention to those we've marked as deer resistant since deer tend to browse many evergreens when they are starving in the winter.
Rhododendrons light up the landscape every spring with their large, showy flower clusters that shine in shades of pink, purple and white. They are understory shrubs, meaning they appreciate the shelter of tall trees looming above to provide some protection from the winter sun and winds. A hedge of rhododendrons growing under a canopy of conifers is a gorgeous site you'll look forward to every spring. The Dandy Man series includes mid-sized cultivars in shades of purple (pictured here), pink, and pink- white.
4-8' tall depending on variety, hardy in zones 4-8, best in part sun but tolerates sun if sited out of the way of winter winds.
Like rhododendrons, blue holly is also a broadleaf evergreen that creates beautiful winter interest. Rather than having showy flowers, they have brilliant red berries. This is the classic type of holly you see on Christmas cards, complete with scalloped pointy leaves in glossy shades of deep green (despite their common name of "blue" holly). They are fun to clip and use in winter arrangements.
Hollies come in male or female forms, and you'll need one male holly to pollinate up to five female hollies so that the red berries can form. Castle Spire® (pictured) is a pyramidal-shaped female holly that grows 6-10' tall and 3-4' wide. Castle Keep® holly is a smaller, more rounded female holly that grows 3- 5' tall and 4' wide. Castle Wall® is a broad and blocky shaped male holly, standing 5-8' tall and 3-4' wide. It will pollinate both Castle Spire and Castle Keep hollies.
Heights stated above, hardy in zones 5-7, best in part sun but tolerates sun if sited out of the way of winter winds, deer resistant.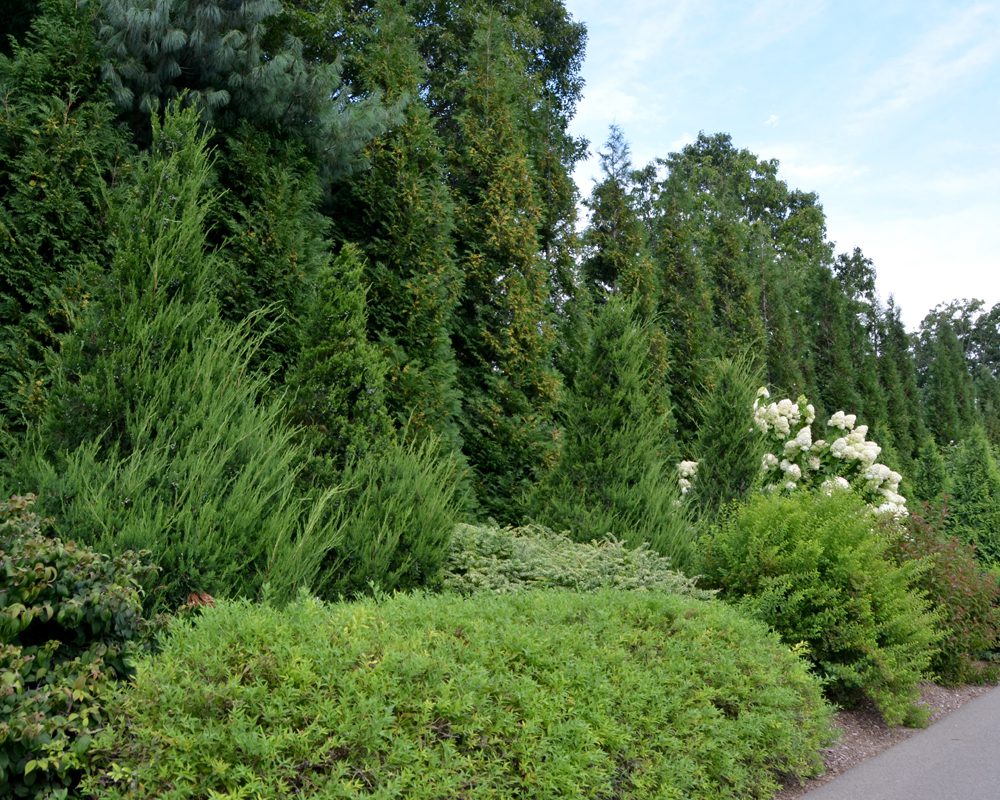 Tallest evergreens pictured here at the back of the hedge.
When a taller evergreen hedge is needed to quickly screen an unsightly view, look to this incredibly fast- growing cultivar of western arborvitae. It towers up to 30' with a single leader while maintaining a tiny 3-4' wide footprint at the base. This shrub has been known to grow as much as three feet per year, which is remarkable for any evergreen. Western arborvitaes have also been found to be much more deer resistant than their eastern cousins.
20-30' tall and 3-4' wide, hardy in zones 3-8, grows in sun or part shade, deer resistant.
Mid-height evergreens pictured here in the middle layer of the hedge.
For a fast growing, deer resistant, evergreen hedge for sun, choose Gin Fizz juniper. This pyramidal evergreen shrub won't take long to screen the view of your neighbor's garage or create privacy in your backyard. Plus, you'll love the extra-heavy crop of blue berries this variety produces every year. Its long branches are fun to use in winter porch pots or mantlescapes.
10-18' tall and 7-10' wide, hardy in zones 4-8, grows in full sun, deer resistant.
Love the look of Gin Fizz juniper but need something more shade tolerant? Try Pinpoint® Blue false cypress (Chamaecyparis) instead. It grows well in sun or part shade and is also deer resistant. Its narrower, space-saving silhouette makes it useful where land is at a premium. If you'd prefer a different color, you're in luck! The Pinpoint series also includes gold and blue & gold selections.
15-20' tall and 4-5' wide, hardy in zones 5-7, grows in sun and part shade, deer resistant.
Here's a highly rated columnar arborvitae that was developed in Minnesota for extra cold hardiness. It keeps its dark green foliage color all winter and tends to have a single leader which helps it shed snow more easily without breaking any branches. This is an ideal evergreen for creating a narrow living screen or to plant along a fence line where deer are not an issue.
10-15' tall and 3-5' wide, hardy in zones 3-7, grows in sun and part shade.
For a similar look as North Pole arborvitae but in gold, choose Polar Gold arborvitae. It shares a bone- cold hardiness through zone 3 and a pyramidal habit that is much taller than it is wide. Gold evergreens are outstanding in landscapes where most other surrounding plants are green. Their cheerful foliage shines in every season, including in the depths of winter.
12-15' tall and 4-6' wide, hardy in zones 3-7, grows in sun and part shade.