Proven Winners® Annuals
Proven Winners® Annuals for Your Garden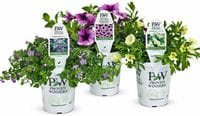 From test sites across the country, Proven Winners® Annuals are trialed and tested for enhanced plant performance. Proven Winners® flowers are easy to grow and care for. With many Proven Winners® plants to choose from, the combinations and designs are endless.
There are no products matching the selection.
This is a custom CMS block displayed if category is empty.
You can replace it with any custom content.