Proven Selections® Annuals
Proven Selections® Plants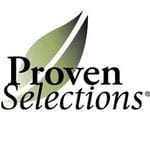 Proven Selections® annuals will perform beautifully in your garden. Available in a variety of colors and textures, Proven Selections® flowers are easy to grow and maintain.
Attracts Butterflies, Great Dried Flower, Long Bloom Time,

Fragrant Foliage, Large Violet Blue Flowers, Blooms Summer until Fall,...

Attracts Butterflies and Bees, Focal Point, Deer and Rabbit Resistant,...
Peachy Creamy Flowers, Long Bloom Time, Neat Upright Habit,

Fall Color, Double row of Petals, Compact Habit,
Bubblegum Pink Flowersr, Double row of Petals, Fall Interest,

Tall, Upright Habit, Cut Flowers, Drought and Heat Tolerant,

Compact Habit, Large, Upward Flowers, Rabbit Resistant,
Large, Upward Flowers, Compact Habit, Spring Blooms,
Hot Pink Flowers, Large 8" Long Plumes, Drought Tolerant,

Vigorous Growers, Full to Part Shade, Can Handle the Summers Heat,
Great Container Plant, Drought and Heat Tolerant, Flowers All Summer...

Large Double Flowers, All Season Color, Part to Full Shade,