Proven Selections® Annuals
Proven Selections® Plants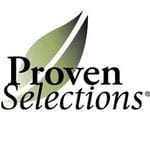 Proven Selections® annuals will perform beautifully in your garden. Available in a variety of colors and textures, Proven Selections® flowers are easy to grow and maintain.
Attracts Butterflies, Great Dried Flower, Long Bloom Time,

Peachy Creamy Flowers, Long Bloom Time, Neat Upright Plant,
Tall, Upright Habit, Fragrant Foliage, Easy to Grow,
Large, Upward Flowers, Compact Habit, Spring Blooms,

Great container plant, Drought and heat tolerant, Flowers all summer...
Large Double Flowers, All Season Color, Pet Friendly,

Bright yellow flowers, Good in shade gardens, Flowers all summer,
Large Yellow Flowers, Good in Shade Gardens, Flowers All Summer,

Large Orange Flowers, Good in Shade Gardens, Flowers All Summer,
Great Trailing Habit, Handles Full Sun, Great in Combos,