Hardy Hibiscus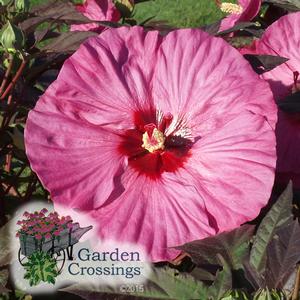 There is a new Proven Winners? perennial that is so awesome you will not want to miss out! Beautiful blooms to adorn your landscape and for you to enjoy. Rich, bright color to add eye catching interest to your garden or yard. A sense of the tropics right in your own habitat. Summerific? Hibiscus 'Berry Awesome' will put on a show in your landscaping.
As I walked around the trial gardens at Four Star Greenhouse, it was difficult to miss Summerific? Hibiscus 'Berry Awesome'. I knew this would be a plant desired by many who love beautiful, statement making gardens. Desired also by the gardener who needs that special addition to their existing garden to make heads turn. And let's not forget the gardener who has a love for the tropics.
Summerific? 'Berry Awesome' presents itself with an arrangement of large 7-8" wide blooms that will consume the space of your hand. These tropical resembling blooms are deep pink/rose with an even smaller, darker, red center. The stamens are a yellow hue with a pinkish shoot emerging from the center. The ruffled petals of 'Berry Awesome' add delicate character to this compact 4' tall perennial. With a width of 4-5' as well, 'Berry Awesome' is a pleasant size for the landscape. Blooming from mid to late summer, this perennial will be graced full of color from top to bottom. A few likable and important attributes of 'Berry Awesome' are its deer resistance and hummingbird attracting qualities. For best growing results, plant in full sun to part shade with moderate moisture soil needs. Keep in mind that you will likely not see hibiscus emerging from the soil until late May, early June. Hardy in zones 4-9.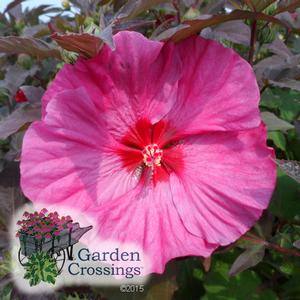 Some great uses for Summerific? Hibiscus 'Berry Awesome' are as a border or specimen plant in the landscaping. If there is an area in your landscape where you would like to establish a definite beginning and end, or to encircle other plants or attractions, this is a great choice for a border. The uniformity of planting plants next to one another in a straight row or curved line brings order to the landscape. Planting 'Berry Awesome' as a specimen plant will bring the element of attractiveness and a bright area to the landscape or garden. This could be a plant that you would like to build a garden around.
Here is some interesting information I found about hibiscus. In China, people use hibiscus to polish their shoes and therefore call it "shoe flower". The dyes withdrawn from the hibiscus flower are used by women in China to dye their hair and eyebrows. In Tahiti and Hawaii, the hibiscus flower styled behind the right ear of a woman is a symbol that she is single and available for marriage. The hibiscus flower worn behind the left ear symbols that she is married. Crushing hibiscus leaves and flower petals resulting in a paste, can be used as a hair shampoo.