From Big (8′) to small (3′) we have them all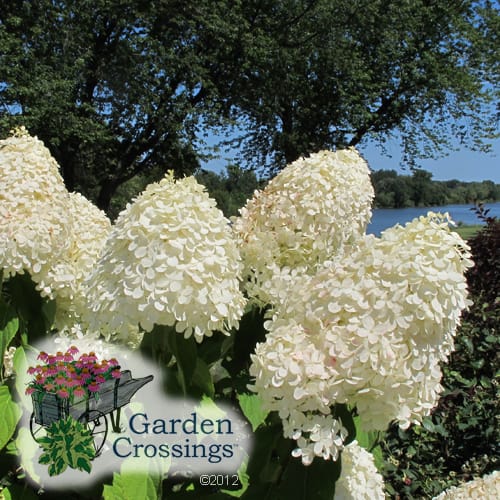 So you love the look of the large, white, cone shaped paniculata Hydrangeas, but are thinking…I don't have the space to grow that large of a shrub. I am here to tell you that you now have options! When you think of Hardy paniculata Hydrangeas the one that comes to mind in most cases is Hydrangea 'Limelight'. 'Limelight' is a beautiful flowering shrub but does get upwards of 8 foot which may not work in every garden.
'Limelight' is a great specimen for many gardens and is the largest of the trio I will be telling you about. It stands 6-8 foot tall and spreads up to 7 foot. The Hardy Hydrangea family grow well in full sun to part shade locations. In mid to late summer the large cone shaped flowers start to emerge. Starting off a lime green they change to bright white and as they age turn to a stunning bright dusty pink color. If you are looking for a plant/shrub that will add vertical color to your garden 'Limelight' is a real show stopper. I love this plant in my garden, the contrast it has against the bright blue summer sky and the deep green grass is stunning!
If you are looking for a mid- size Hardy Hydrangea, I recommend Little Lime™. Little Lime™ stands 3-5 foot tall and equally as wide. Mid to late summer the lime green flowers start to show, as they open fully they turn to a crisp white color. The color does not end there, as the season progresses and the flowers age, they take on a dusty pink color. This past summer my flowering shrub had flowers in all stages of growth, the multi colored blooms were so pretty! Little Lime™ has sturdy stems that hold up the large blooms. A great mid-size shrub for gardens and landscapes.
If Little Lime™ still seems like it may be too large for your garden or landscape we have one more option for you. The littlest member in our Hardy Hydrangea family is Bobo™. The compact size of Bobo™ is a really treat for gardeners who have very limited garden space or who would like to have a container planted with a hardy hydrangea. At maturity, Bobo™ stands 30-36 inches tall, a great compact or dwarf shrub for just about any location. Again, like its larger family members, Bobo™ starts off with lime green flowers that turn a bright white as they mature. At the end of the flowering cycle the flowers turn a bright pink. A great shrub that displays multiple colors in various stages. Last summer when I was visiting Spring Meadow Nursery. Inc., I saw Bobo™ planted in combination with White Album™ Euonymus– what a great combination!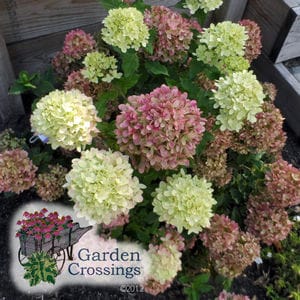 One of the beauties of Hydrangea is all that they have to offer. They display great beauty in the outdoors and they also are a great cut flower to bring indoors. Or if you feel like enjoying those blooms all season long, try drying them for dried floral arrangement for your home. Planted as a specimen, or in mass, 'Limelight', Little Lime™, and Bobo™ will all promise you one thing, a great addition to your gardens and landscape!
Don't forget to check out all the Hydrangea plants that we have to offer!