The Perfect Trio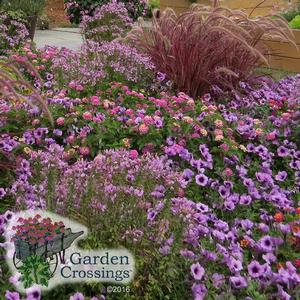 Spring is almost here and many of you are probably thinking about your garden(s) or landscaping. An avid gardener is always thinking of ways to add a new garden area or to freshen up their current landscaping. While touring Four Star Greenhouse during the summer of 2015, I observed a beautiful idea for an annual landscaping trio. Graceful Grasses® 'Fireworks' Pennisetum, Supertunia® Bordeaux Petunia, and Luscious® Pinkberry Blend Lantana are three beautiful choices to plant together to make a colorful statement with movement in the landscaping.
When planting a new garden or landscape area or adding to an existing one, always remember to read the labels and plant accordingly. Whenever planting in an area that will be seen from all directions, plant the tallest plants in the center moving out in succession with shorter plants. When planting in an area that is against a building or structure, plant the tallest plants in the back with the shorter plants moving out towards the front. Another option would be to plant your tallest plant in the back or middle and then alternate the other plants of similar height in your garden for a wave effect. Calculate your area in feet and this will aid you in your spacing of plants and also help you to know how many of each plant you should include. I find it helpful to draw a picture and place my plants in the area I would like to plant them in, with the idea I have in mind and visualize how it would look planted before I start digging. Once you have arranged the plants exactly how you would like to see them grow, grab your shovel and begin creating your garden!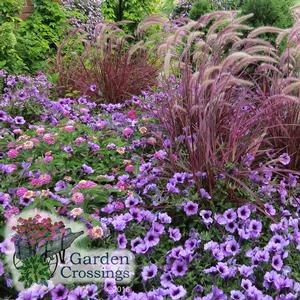 Pennisetum 'Fireworks' is an annual ornamental fountain grass that is variegated and displays pink, burgundy and purple foliage with a bit of white for a contrasting color. It grows 2-3' with a spread of 2' and hardiness zones of 9-10. In summer/late summer, it will exhibit long fuzzy plumes as an added texture to its foliage. 'Fireworks' is deer resistant, drought tolerant with its dry to moderate soil needs and makes a great cut flower or foliage for arrangements. It will be the thriller attribute to your garden or landscape design. I particularly like this fountain grass for its bold color statement. Pennisetum 'Fireworks' will also give your garden or landscape movement with the summer breeze. This will be your tallest garden plant in this trio.
Luscious? Pinkberry Blend Lantana displays tiny florets with colors of pink, yellow and cream to form a mini bouquet on each stem. Once this annual is established, it is both heat and drought tolerant. This plant has a nice mounding habit and reaches a height of 20-24" with a spread of 24-36". Luscious? Pinkberry Blend is fragrant and will attract butterflies and hummingbirds. You will also enjoy the deer resistance of this annual as well as its bloom time from late spring/early summer through fall. The variation of color that this Lantana displays makes me think of a sweet candy such as cotton candy. This will be the in-between or middle height in this trio.
Supertunia® Bordeaux Petunia is a beautiful reblooming lavender petunia with deep plum/burgundy veining. This vigorous petunia likes to be fertilized often, has moderate to dry soil needs and attracts butterflies and hummingbirds. Supertunia? Bordeaux grows 6-10" high with a spread of 8-12" and is hardy in zones 10-11. This annual will give a long bloom time from late spring/early summer through fall. These beautiful lavender blooms will compliment the bold colors of Pennisetum 'Fireworks'. This will be the shortest plant in this trio.
If you would like to add a fourth annual into this mix, you could also add Senorita Mi Amor™ Cleome to this trio. With its bright pink color and drought tolerance as well as butterfly and hummingbird attracting qualities, it will be a suiting addition. Reaching heights of 2-4' and spreading 18-24", planting this near Pennisetum 'Fireworks' is recommended. Also blooming from late spring/early summer through fall with a hardiness in zones 10-11, this will be an added thriller feature to the trio.
This trio makes a beautiful garden or landscape display with two of the most popular requested colors in the garden, purple and pink. If you are looking for an attractive new annual garden idea for this season, give this trio and try. I think you will be satisfied with the results!