Three New and Improved Dianthus in the Proven Winners FRUIT PUNCH Series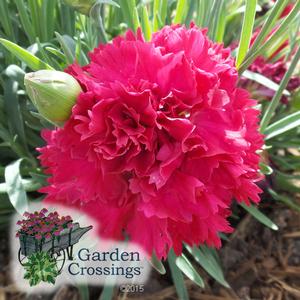 Excellent habit, beautiful foliage and blooms that are breathtaking, all of which are attributes to the three new Dianthus in the FRUIT PUNCH® Series. New for 2016 'Maraschino', 'Sweetie Pie' , and 'Cranberry Cocktail' are perfect as a border, in mass or to add a splash of color here and there in your landscapes and gardens.
Each of these new Dianthus bring a little flair to the garden. The largest bloom in the series belong to FRUIT PUNCH® Dianthus 'Cranberry Cocktail' reaching widths of 2 inches across. The bright red bloom is fully double with serrated petals. With foliage reaching 8 inches tall the blooms of 'Cranberry Cocktail' stand at 12 inches. Blooming early summer, the bloom time can be extended by removing spent blooms.
Although the flowers are a bit smaller, the deep burgundy red color of FRUIT PUNCH® Dianthus 'Maraschino' is something to talk about. The deep burgundy red flowers are accented by deeper burgundy eye. The foliage is a blue green color which accents the flowers beautifully. Even when not in bloom, the foliage of 'Maraschino' is stunning. The little mounds of blue green, grass like foliage stands 8 inches tall, in early summer the deep red flowers emerge for added beauty. Dianthus are deer resistant plants!
Last but not least in the FRUIT PUNCH® Series is Dianthus 'Sweetie Pie'. Such a cute name, isn't it?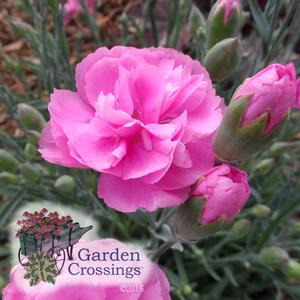 'Sweetie Pie' is just as cute as her name. The large pink flowers go through a transition of pink colors as the flowers age. Starting off the blooms are a bright bubblegum pink, as they age the pink gets softer until they reach a baby pink color. 'Sweetie Pie' is a fragrant beauty that can last for several months in the garden when spent blooms are deadheaded.
All of the Dianthus in the FRUIT PUNCH® series are to be grown in full sun to part shade locations with well drained soil. Dianthus are known to be drought tolerant once established and attract butterflies and hummingbirds to your garden and landscape. Planted in mass, as a border is where you will often find Dianthus, you can also think outside the box and use them in container plantings. When not in bloom the foliage has a lot of character and offers nice texture to planters.