If we have the courage to pursue them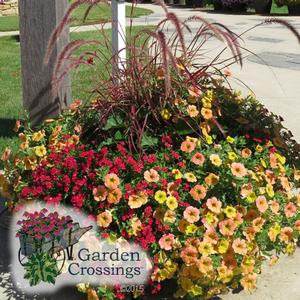 Are you looking to get into the 'Flowering' world but the thought of 'Gardening' is scary to you? Take the advice of Walt Disney, "All of your dreams can come true, if you have the courage to pursue them". Gardening can be large scale or small scale, no matter what you are looking to do gardening can be successful and fun!
Today we will look at small scale gardening that can create a big impact. Container gardening can be fun, beautiful and not take a big time commitment. First you will want to find a perfect container for your decor. When picking a container you may want to think how this pot can work for you in all seasons, you are making the investment you may as well be able to enjoy it year round.
When creating a spring/summer planter you may want to take into consideration the Thriller, Filler and Spiller aspect. I will explain… Thriller would be that statement or taller plant that you will design around. Some of our favorite thrillers are Grasses, Caladiums, and Elephant Ears. These are all taller plants that will give your design a 'wow' factor. Next you want to find plants that fill in around your statement plants. Usually these plants have a mounding habit or just slightly trailing. A few of my favorite Fillers are Superbells®, Euphorbia, and Lantana. And to complete your spring/summer planter I would recommend adding in a few spillers. These are the plants that spill over the edge of the pot. My go to spillers are Supertunias®, Lobularia, and Sweet Potato Vine. With just a few design tips, your containers will look fabulous.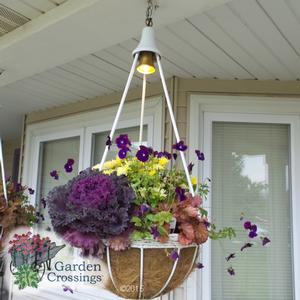 So I mentioned that you may want to pick out a container that will take you through the seasons. Where I am heading is, once summer is done and fall arrives you may want to swap out your flowers. Fall is a great time to plant garden mums, Heuchera and Ornamental Grass just to name a few. Fall decor is simply stunning and not much maintenance.
The fun doesn't have to stop there! Winter is a great season for planters also, and this is where you can use elements from your yard to create a lovely look. A few of my favorite elements are evergreen pine boughs, dried hydrangeas, and Red Twig Dogwood twigs. All you have to do is remove your fall plants leaving the dirt in the pot. Simply just stick your pine boughs, Dried hydrangeas and red twigs in the dirt and wala you have your winter planter. No watering required!