Our Average Daily High Temp for April is 56°F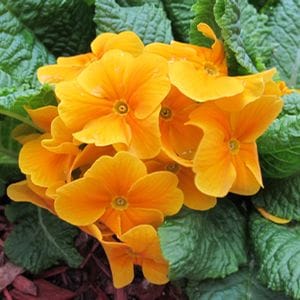 This begins the season we've all been waiting for. Though we started some gardening activities last month, April will be the one that helps you sleep well every night. The fresh spring air and all that great exercise in the garden do a body good!
Spring bulbs have begun to bloom and some early ones may be finished this month. You can cut the spent flower stalks to the ground, but resist cutting or tying up the foliage. Allowing the foliage to yellow and take its natural course will be how the bulb itself gets fed for next year's bloom. Once it has yellowed and fallen over, it's safe to cut it at ground level. Don't allow the flower head to remain long enough that it forms seed pods, as this takes energy from the bulb.
Now is the time to do some serious spring cleaning in the garden. Trim back dead foliage and gather up winter's detritus, such as small branches and excess leaves that may have blown in during the winter. The soil will be softer now, so weeds are easy to pull.
Cool season vegetables, such as spinach, lettuce, peas, broccoli, cauliflower, and beets can be planted as soon as the soil can be worked. A good test of this is to take a handful of soil and squeeze it. If it remains in a ball, it's too moist and should be allowed to dry further. If it crumbles, work it!
Trees and shrubs can be planted in April, as can many perennials. If the perennial has been grown outside, rather than in a warm greenhouse, plant it as soon as you get it. Otherwise, give it a few days outside when it's warm, in a sheltered location (such as in the shade of a tree), to harden it off. Again, be sure the soil has dried sufficiently, so you aren't "mudding it in." Perennials can be divided and moved now, too.
It's still too early to plant most annuals, but pansies, violas, and primroses can handle early spring's fickle weather, including some frost. These come in beautiful colors and are a great way to spot in some color among the perennials that are putting on leaves but not yet blooming.
Take a walk in the woods. The spring ephemerals, such as Dutchman's breeches, Trillium, violets, and bloodroot will be coming into bloom, among others. Use your camera to capture their beauty.
To-Dos:
Cut spring bulb flower stalks to the ground after they've finished blooming, but allow the foliage to die back naturally.
Do general garden clean-up.
If soil can be worked, plant cool season vegetables by direct sowing.
Get trees and shrubs planted. Perennials can be planted now, as well as divided and moved.
Plant hardy annuals such as pansies, violas and primroses.
Go for a walk in the woods and enjoy the wildflowers!
Watering Info:
The spring rains will usually keep the garden and lawn moist during the month of April.
Remember that newly planted plants will dry out quicker and will need more water than established plants for about a week after planting.