Plant Your Very Own!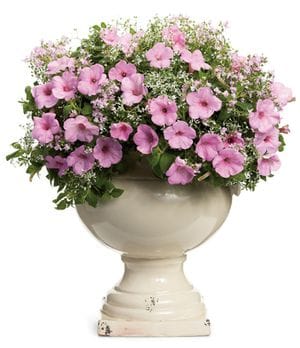 Spring is in the Air at Garden Crossings!!!
Garden Crossings would like to introduce you to Spring a little early. We would like to invite you to our seventh annual Container Gardening Open House on Friday March 25 from 5pm-8pm and Saturday March 26, 2016 between the hours of 10am-2pm. Tell all your friends. No, better yet, bring your friends for a couple hours of fun.
Come and enjoy the warmth as you walk through our greenhouse and start planning your spring gardening activities. Our staff will be on hand to assist you with any questions you may have. Since it will still be too cold to plant outside, let of our staff help you place an order for pickup at a later date. We will also have an area of our Garden Center set aside for the gardeners who just cannot wait to dig in and start gardening.
You will have the opportunity to plant your very own combination planters or hanging baskets. If you like to design, you can design a plan of your own. We will also have preprinted designs that you can follow. Our staff will be available to help you with your plantings and designs if needed. We will also provide to you a Proven Winners® Gardener's Idea Book for you to look through and take home. We will grow and take care of your baskets until the week before Mother's Day when they will be filled out and ready for you to enjoy for the summer.
The cost for planting your own combination containers or hanging baskets will start at $32.99 and paid for at the time of planting. This price includes 5 – 4 ½" annuals of your choice, a 10″ or 12″ plastic pot or basket and potting soil with time release fertilizer and a Proven Winners® Gardener's Idea Book. Along with us assisting you in your design, growing and maintaining your plants until you are ready to pick them on Mother's Day Weekend. We will have other sizes and style basket available for an additional cost.
We are KID FRIENDLY! We also have a special planting program for kids. Kids can plant a 10″ basket from select plants for only $14.99. It is never too early to share the love of gardening with your children, and they will thank you for it!
If you would like to come and take a look around and see the signs of spring feel free. Snacks and refreshments will be available. If you would like to design and plant your own hanging baskets please RSVP for this event so we know how many to plan for. Please let Heidi know by email at heidi@gardencrossings.com by March 24th. If you have more questions please feel free to contact us. We look forward to seeing you here on March 25th and 26th. Mark your calendar and tell your friends.
To Plant is to Believe in Tomorrow!!!
Garden Crossings L.L.C.
4902 96th Ave.
Zeeland, MI 49464
E-mail: sales@gardencrossings.com
Phone: 616-875-6355
Fax: 616-875-8765