You might not be able to tell from my blonde hair and blue eyes, but I'm actually 25% Italian from my father's side. Add to that many, many days spent with my 100% Italian childhood friend Maria and I'm practically a majority Italian. That must explain why tomatoes, basil and garlic go in just about everything I whip up in the kitchen.
I found this photo of stacked bruschetta and my mouth instantly started to water. Can't you just taste those juicy cherry tomatoes picked fresh off the vine? Nothing tastes more like summertime to me. Somehow, tomatoes you grow yourself always taste better than store bought ones.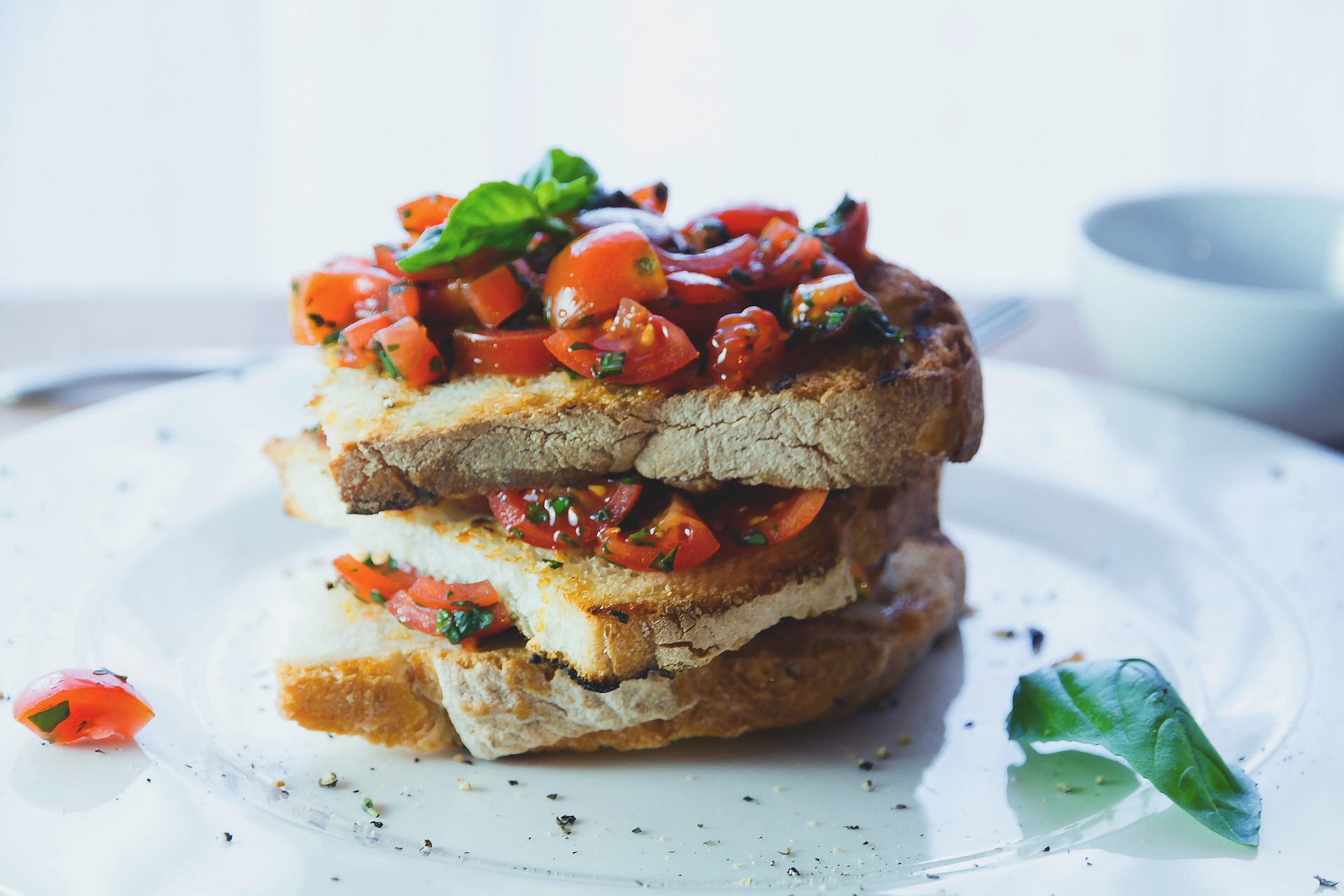 I'd make this recipe for lunch every day if I could, but it's pretty enough to serve when company's coming, too. Here's how to make it.
For one Stacked Bruschetta you'll need:
About 3/4 cup of diced cherry or cocktail tomatoes, seeds removed
3-4 mid-sized leaves of fresh basil (Amazel Basil is my favorite)
½ clove of fresh garlic
3 slices of peasant bread or Italian loaf with a chewy crust
Good quality extra virgin olive oil (EVOO)
Splash of balsamic vinegar
Salt and cracked pepper
Optional: 2 slices of fresh mozzarella cheese
Instructions:
Dice up the tomatoes and basil and place them in a small bowl.
Add a splash of EVOO and balsamic vinegar, plus salt and cracked pepper to taste. Toss to coat.
Grill or toast the sliced bread. Grilling will give you the sear marks that make this dish look more gourmet if you're looking to impress your guests.
Rub the cut end of a fresh garlic clove on the toasted bread to impart a subtle garlic flavor without overwhelming the dish.
Optional: top the garlic rubbed bread with a thin slice of fresh mozzarella cheese and melt it under the grill hood for a few seconds.
Assemble the Stacked Bruschetta like you see in the picture, layering the tomato/basil mixture on each slice of toasted bread.
Garnish with a fresh basil leaf and serve immediately.
Inspired to grow more tomatoes and basil next year? We'll have plenty in stock! Here's a link to all the edible plants we offer.