Clematis Flowering Vine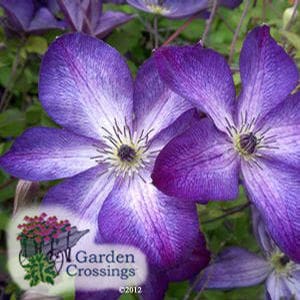 Looking for a climbing clematis vine to add upward color to your garden? You have come to the right online supplier of clematis vines! Garden Crossings has over 60 varieties of clematis in colors ranging from white, pink, purple, red & yellow. Clematis is a climbing vine that grows anywhere from 2 feet to 20 plus feet.
One of the most known and popular clematis vines at this time is Clematis Jackmanii. What makes Jackmanii so popular you ask? It is an easy to grow variety that reaches around 10 foot tall. Jackmanii Clematis can be trimmed back each fall and will grow from the base the following spring. One of the keys to clematis success is to keep their roots shaded. Clematis do not like 'hot feet'. We recommend either mulching around your plant or planting a 'companion' plant to help shade the base of your plant.
When purchasing a clematis climbing vine, you will want to know what prune group it is from. There are 3 prune groups to look for.
Clematis Prune group 3 includes flowering vines that are of a vigorous nature. They grow on the new season growth so should be trimmed back to 2-3 foot in late fall early spring.
For success with clematis in prune group 2 clematis you do not need to do a lot of trimming. These clematis vines bloom on both last year's growth and the new growth from this year. You can lightly prune above the upper most set of buds and remove any old growth that is dead.
And lastly, clematis from prune group 1 bloom on the prior season's growth. They can be left untrimmed. If you feel they need a little tidying up, we recommend trimming them after they bloom in the spring.
Garden Crossings takes pride in selling good clematis online. Some of our personal favorites are the following…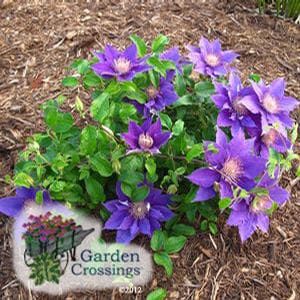 Clematis 'Bijou' is a great ground covering clematis vine that only gets 24 inches tall/wide. This clematis variety has a mounding habit that is great for garden borders.
For an intense splash of color, consider giving 'Venosa Violacea' clematis a try. The bright purple blooms have a bright white star that just shines in the garden.
Gardener's favorite clematis vine is Clematis 'Rebecca'. This top selling Clematis has bright Red blooms that are stunning! It is hard to find a good red clematis vine, 'Rebecca' is the best! With its early blooms in late May/June, this rebloomer puts on its second show in August.
Clematis are known as The Queen of The Vines. For additional information on this garden Queen see our Clematis Plant Care Tips.