Purple fountain grass is a classic go-to for summer and fall containers, but it takes a little practice to use them successfully. The most common call for help we hear from our customers is when their grass takes over their container at the expense of everything they have planted it with. Let's take a closer look at
how to use ornamental grasses in containers.
#1 – Know how grasses grow
Just like your turf grass, most ornamental grasses have lots of fibrous roots that fill a pot fairly quickly. Knowing that they will take up a lot of soil space in your container, remember to start with a very large pot if you are going to plant an ornamental grass plus other companion plants with it in the spring. This will allow more root space for all the plants and give the grass' companions a fighting chance at survival.
If you are starting fresh with new plants in your fall containers, root space won't matter as much because the plants will not be growing as long. More about that in #3 below…
#2 – Plan for seasonal switch-outs.
If you plant an ornamental grass like purple fountain grass in your combination container in the spring or early summer, you can count on it to mostly fill the entire pot by late summer. If you know that's going to happen, you can plan on including fewer plants with it in the spring. Alternatively, you could give your
grass its own pot and plant complementary flowers and foliage plants in separate pots placed around it.
Let's take a look at what happens when you plant Vertigo® fountain grass in a large container in the
spring.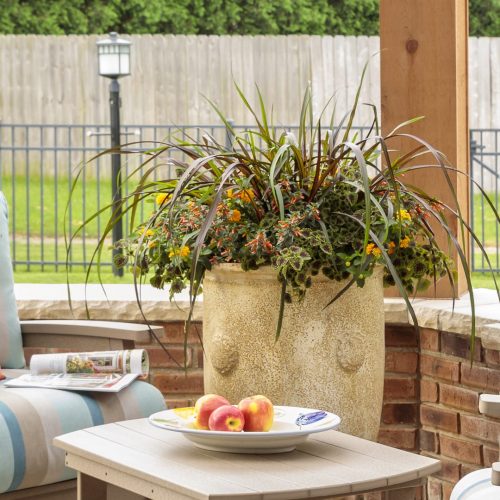 Spring to Summer
From spring through early summer, there is plenty of room in the container for one Vertigo® fountain grass plus two plants each of ColorBlaze® Chocolate Drop coleus, Vermillionaire® cuphea and Luscious® Goldengate™ lantana.
Late Summer
By late summer, the very vigorous ColorBlaze Chocolate Drop coleus has taken over the lower layer of the planting, and the Vertigo fountain grass has doubled in size. If the grass' foliage has doubled in size, you know its roots are also expanding to fill the container. At this point, you could trim away some of the coleus to reveal more of the lantana and cuphea under it if you desired.
Fall
By fall, the grass has nearly fully consumed the container, both with its foliage and with its roots. The coleus and lantana are vigorous enough to fight it out for their share of elbow room, but the cuphea has been removed and replaced with colorful gourds. No mums or other fall flowers were added because by this point in the season, there is no more available root space in the container.
#3 – Start fresh in fall.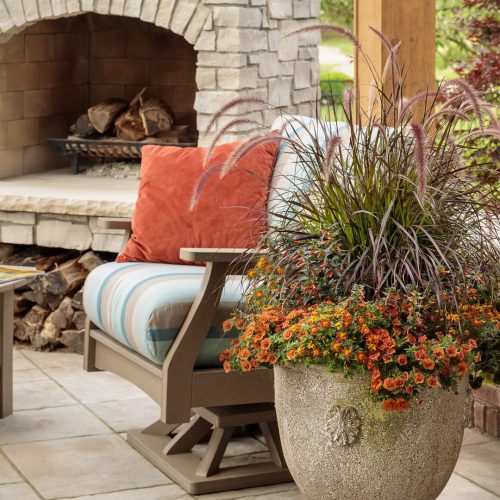 If you like the look of ornamental grasses in your fall containers but want to pair it with other colorful blooms, start fresh with new plants in late summer. Since the fall season is shorter, you won't need to worry so much about the grass' roots taking over the available root space or the plants you pair with it becoming overtaken.
Since annuals tend to grow more slowly in the cooler fall weather, you'll need more of them to fill the container. Plan to use more plants per pot than you did in the spring when you had the luxury of time to watch them grow and mature.
Fill in the space around the base of the grass with flowers that can handle cool, but not freezing, weather like pansies, mums, calibrachoa, petunias, nemesia, sweet alyssum, ornamental cabbage or kale, Argyranthemum and Osteospermum daisies.
Find all of the annuals and ornamental grasses we have available for your fall containers here.