Petunias, impatiens and coleus…OH MY! All that color is a feast for our eyes after a long, grey winter and we are thrilled to be able to grow plants once again. For some people, their appetite for plants is a tad bit bigger than their budget. Let's walk through ten sensible tips to help you choose the best container companions so you can get the most from your patio plants this season.
1. Take inventory of your pots before you shop.
Before you head to the store or online to shop, gather up the containers you have to work with this year. Check to make sure none have cracked over the winter, measure those you need to buy replacement coco liners for and make some initial decisions on which containers you'll use this year. If you could use a few more, what color or material would best coordinate with your other pots? Make notes in your phone so you'll be able to reference them easily when you shop.
2. Think about how much time you have to spend maintaining your containers.
Before you decide which plants to buy, think about how much time you'll have to water and feed them. Some people have plenty of time on their hands to care for their container plants, but others do not. If your time will be limited or if you travel a lot in the summertime, consider growing succulents, setting up a drip irrigation system, or investing in AquaPots® self-watering containers (available in our retail store).  
If you think you'll have time to water and feed your plants occasionally, look for plants that don't mind drying out a bit between waterings and those that don't need to be fertilized as often like begonias, cleome, artemisia, cuphea, euphorbia, evolvulus, star flower, portulaca and scaevola.
If you enjoy watering your plants every day and feeding them regularly, consider those that will appreciate your attentive care like petunias, calibrachoa, impatiens, sweet alyssum, geraniums, bacopa and verbena. 
3. Look for plants that suit your sun/shade conditions.
While you're making notes in your phone about the containers you have to work with, also note how many of those pots will be situated in the sun v. the shade. For example, maybe you need two matching 
hanging baskets for your shady front porch and six pots for your hot, sunny deck in back. When shopping, make sure you match up the sun or shade requirements of the plants you are buying with the conditions you actually have in your garden.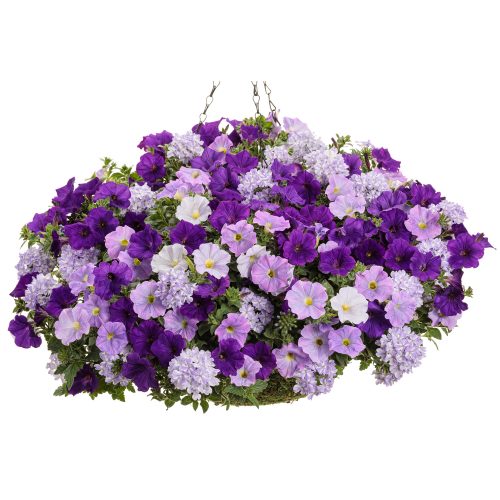 4. Look for plants with similar vigor.
No matter how long we've been growing plants, we've all experienced when one plant unexpectedly takes over all the others in the container. Sweet potato vines and Supertunia Vista® petunias are two kinds of plants that have a reputation for being extra vigorous. Once you try a few combinations, you'll start to get a feel for which plants you can pair safely together without one overtaking the others.
Look for clues in the plant's description to learn its vigor. If it emphasizes that this plant is best grown in the landscape instead of containers, it's likely because it grows too big for most containers. Words like "vigorous" and "wide spreading" give clues to a plant's strong vigor and sizeable habit while words like "compact" and "densely mounded" indicate a more petite, slower growing plant.
5. Pick a color theme.
Here comes the fun part! What theme will you use for your containers this year? Will you choose your favorite color and run with it or try something totally different this time? Do you like patterned flowers or solid-colored ones? Are you a fan of pastels or do you favor vivid hues? 
If you're planting multiple containers and would like them all to coordinate, consider choosing three colors as your theme such as purple, pink and yellow. Then, look for plants within that color theme that match your sun/shade conditions and preferred maintenance level. 
If you are looking to create a relaxing vibe on your patio, use cool colors like blues, purples and greens. Go the opposite route by choosing warm colors like reds, hot pinks and oranges to create more of a party atmosphere. 
6. Pair plants of varying textures.
Well-designed container recipes include plants with a mix of different textures. Choose some with broad leaves and others with smaller ones, some plants with round flowers and others with spiky ones. The key is to mix things up a bit.
For example, you could pair calibrachoas which have round flowers and small leaves with sweet potato vine which has broad leaves of a contrasting color. Put a tall angelonia in the center, then add a wispy Diamond Frost euphorbia to the mix to blend both textures together. The result is one like you see here in our Nottingham Castle recipe. 
7. Consider including some fragrant plants in your containers near seating areas.
Engage all the senses by including some fragrant plants in the containers or plantings around your seating areas. Distinctive scents like sweet alyssum may stir up good memories of your grandmother's garden when the sun warms the flowers midday. Angelonia, lantana and Aromance® Pink nemesia are other fragrant annuals that grow well in containers. You could also grow a dwarf reblooming lilac or fragrant echinacea in a large patio pot. 
8. Use the thriller-filler-spiller method or create your own combination.
Traditional container recipes like Passport to Paris, shown here, often contain a mix of thrillers, fillers and spillers. The thriller is the tallest, most prominent plant in the combination. The spiller is the plant or plants that trail down over the edge of the pot. The fillers are everything in between those two layers. Following this formula is an easy way to choose plants for container recipes.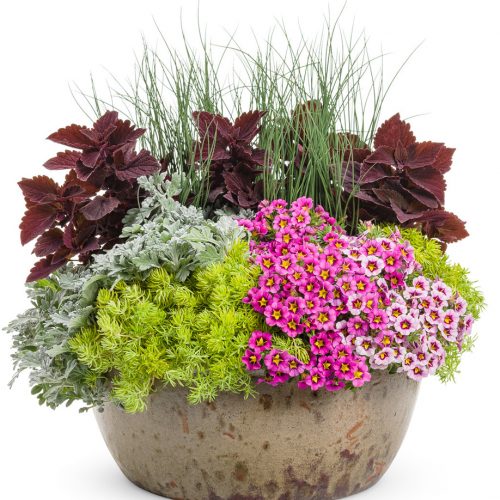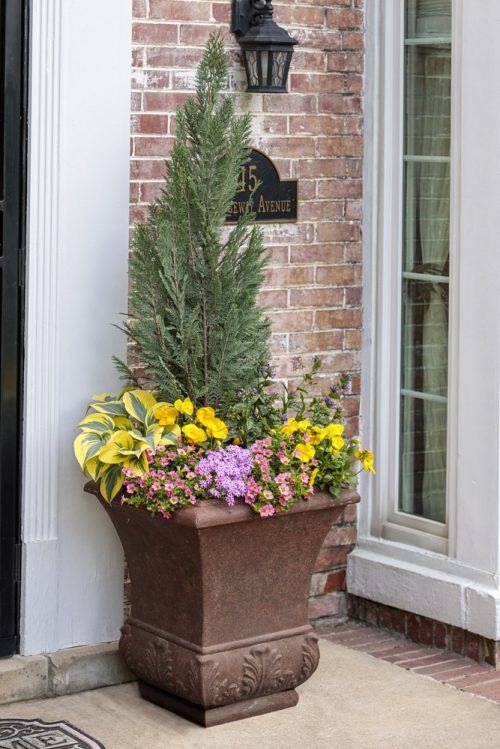 9. Use an evergreen shrub as an anchor in your four-season container.
If your container will be left outside all year, consider planting a four-season container combination using an evergreen shrub as your main focal point. Change out the surrounding companions through the seasons. 
In the recipe you see here, Pinpoint® Blue false cypress acts as the permanent thriller in the pot paired with Superbells® Honeyberry™ calibrachoa, 'Autumn Frost' hosta, 'Bedazzled Pink' creeping phlox, lungwort and yellow pansies for spring. The latter three could be switched out for something more heat tolerant to last through the summer months. Mums could be used for fall, then winter greens and berried branches for winter. 
When using an evergreen shrub as a permanent focal point in your container, be sure to choose companion plants that are much shorter. This is important because you don't want the evergreen to get shaded out by the surrounding plants and lose its foliage at the base.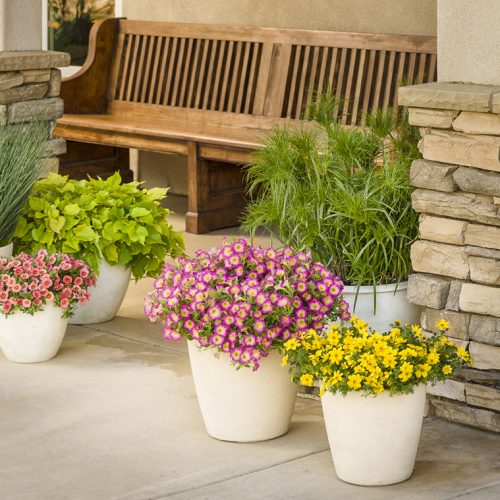 10. Sometimes it's easier to go solo.
Sometimes it is just easier to give each kind of plant its own container. This is especially true if the plants you really want to grow don't prefer the same amounts of water or fertilizer, or if one is much more vigorous than the others. You could group pots of single varieties together on your patio in a thriller-filler-spiller manner by placing the tallest ones in the back of the grouping, the shortest in the front, and everything else in between. 
Need more help getting started? Check out our pre-planted annual combinations and DIY annual combination kits.