Lo & Behold® 'Blue Chip Jr.'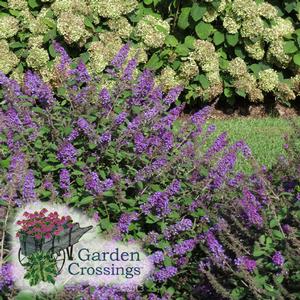 Lo& Behold® Buddleia 'Blue Chip' has been a top seller for the past 5 years and now it just got 'better'. Why better you ask? We have loved the fact that 'Blue Chip' was a compact, sterile Butterfly Bush, and the only thing that could make it better is to be even more compact.
Lo & Behold® Buddleia x 'Blue Chip Jr.' is everything that you have loved in its bigger brother 'Blue Chip', just that it is about 12 inches smaller. Standing only 20-24 inches tall the compact size is perfect for perennials gardens and landscapes alike. The flower color is a touch more 'electric' blue/purple than 'Blue Chip' for a striking mound of color. If you love the fairytale flutter of butterflies in your garden, Lo & Behold® 'Blue Chip Jr.' is a must. Butterfly bush are an easy to grow, drought tolerant shrub that blooms from midsummer well into the fall. There are not that many long blooming flowering shrubs or perennials, so this is a true garden treasure.
For a beautiful, striking combination try planting Lo & Behold® Buddleia x 'Blue Chip Jr.' as a border in front of either Incrediball™ Hydrangea or Hydrangea paniculata 'Limelight'. The bright white blooms of the hydrangea will really accentuate the electric blue of 'Blue Chip Jr'.