Our Average Daily High Temp for September is 72°F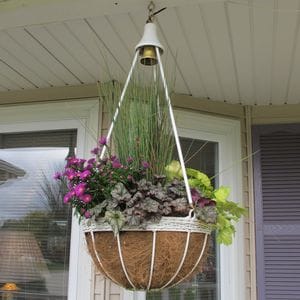 The garden is taking a definite turn for the season in September. This can be a good thing! It's the time for fall beauties to shine – things like mums and asters, toad lilies and goldenrod. The black-eyed Susans are in full bloom and many plants that looked tired in the hot days of August perk up in the cooler days of fall.
September is a great time to plant perennials. This gives them a chance to become established before winter so that when next spring comes, they're off and running. The cooler temperatures lessen the stress on transplants, too. So, go plant shopping! You may even be lucky enough to find some great sales on perennials and shrubs.
Peonies are best moved and planted in the fall and it can be done now through about Thanksgiving. The ground will usually not be frozen yet then so peonies and other fall-planted bulbs can go in. Though you may be somewhat tired of gardening by this time, spring-blooming bulbs can be tucked into many small spaces and come spring, you'll be glad you made the effort.
Dig and divide daylilies as they finish their bloom cycle. Hostas can be dug and divided now, too.
Since night temperatures are dipping below 50°F, it's time to bring in your tender tropicals and other houseplants you may have put outside for summer. Rinse them off and spray with an organic insecticide (such as a Neem oil product) before taking them in. Once they get inside, the hitchhikers tend to come out of hiding and you don't really want those flying or crawling around in your house.
If rainfall has been scarce, be sure to water your trees and shrubs well during the fall season. This will help them endure the drying winter winds.
Lift tender bulbs and tubers, such as dahlias and gladiolus, before first frost. Clean the soil from them and discard any dried or mushy parts. Store them in a cool, dry location for winter, such as in a basement. You can put them in peat or sawdust, which acts much like mulch in the garden, helping to keep them from drying out completely, yet not retaining too much moisture.
Clean dead or spent vegetable plants from the garden and add these to your compost. Discard any that are diseased. Now is a good time to add seasoned compost to your beds. Even if it isn't quite "black gold," adding compost that is mostly decomposed is fine. The winter cold and snows will break it down further and by spring, it will be perfect for working into the top layer of soil before planting. Adding a few inches of compost around your perennials and shrubs will benefit these as well.
To-Dos:
Plant perennials to give them a head start on next year's growth.
Move and/or plant peonies now.
Dig and divide daylilies and hostas.
Bring in tender plants before night temperatures go much below 50°F. Treat with organic insecticide and repot, if appropriate.
Give trees and shrubs plenty of water so they'll be well-hydrated going into winter.
Lift tender bulbs and tubers and store for the winter.
Clean dead and dying vegetable plants from the garden and add to compost.
Layer seasoned compost onto bare garden plots as well as around perennials and shrubs.