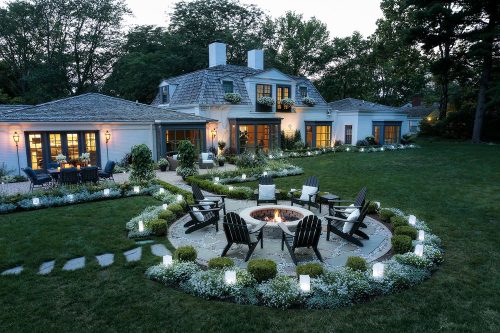 You may have seen the idea of planting a moon garden pop up in your social feeds recently since it has become quite trendy. But the concept of designing a garden with plants and water features that reflect the moonlight is an ancient trend born centuries ago in China's meditation gardens. It first became popular in the U.S. in the early nineteenth century and was the main theme of the famous Sissinghurst Castle Garden near London, England in the late 1940s.
Why are moon gardens trending again? Perhaps it's because more people are spending time at home these days, especially in the evening, or have more time to relax outdoors. If you tend to enjoy in your garden in the evening, a moon garden may be just the right fit for you.
Think of a moon garden as a calm oasis that can be enjoyed any time of day but is especially nice at night when the white and silver flowers and foliage you've planted there take on an ethereal glow.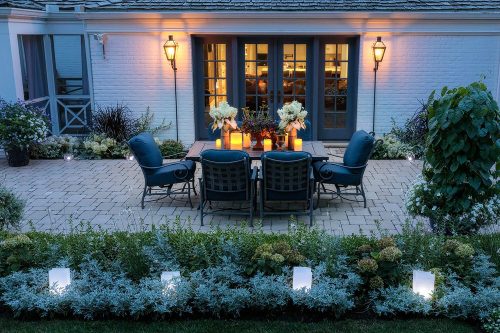 Details to Consider for Your Moon Garden
LOCATION – Choose a spot out in the open where the moonlight can shine directly down on the space. White and silver plants growing in the shade of large trees or under a canopy won't have the same glow because the moonlight won't be able to reach them. Also make sure to plant your moon garden in a location where it can be easily enjoyed in the evening from your patio or other primary viewpoint.
SIZE – There is no one right size for a moon garden. It can be as simple as a few large pots grouped together, as complex as an entire garden planted in white, or any size in between. You might want to start small to see if you enjoy the concept first before going all-in.
PLANTS – We'll go into detail with plant recommendations below, but generally, what you'll need for your moon garden is large groupings of plants that bear white flowers or have white variegated or silver foliage. Planting a single specimen of a plant that is not very large won't have much of an impact in a moon garden. Pale shades of blue, lavender, yellow and pink will also reflect some moonlight, but not quite as effectively. Plan to include a broad selection of plants that will keep the white theme going from spring to fall.
FRAGRANCE AND SOUND – When sight is limited because of the darkness, your other senses become heightened. That's when you'll notice the honeylike scent of sweet alyssum or hear the sound of rippling water in your fountain the most. Moon gardens are a type of sensory garden that engage us with our surroundings and create a peaceful atmosphere. Fragrant plants and features that bring in the element of sound will enhance your moon garden experience.
SUPPLEMENTAL LIGHTING – For cloudy and moonless evenings, add lanterns, solar lights or candles to reflect light onto the plants in your moon garden. That way, you can enjoy your moon garden no matter what the weather or phase of the moon.
Best Plants for Moon Gardens
The majority of the plants used in moon gardens bear white flowers or have white variegated or silver foliage since these colors best reflect the moonlight. If you can't live without a little color, pop a few pastel blue, lavender, yellow or pink flowers in too, but make sure they don't make up the bulk of your planting since they won't glow quite as well at night.
By choosing a mix of annuals, perennials and shrubs, you'll get to enjoy a parade of white and silver all summer as you relax out in your moon garden. Here are some of our best plants for moon gardens, but your selection is really limited only by your imagination as long as you stick to the color palette.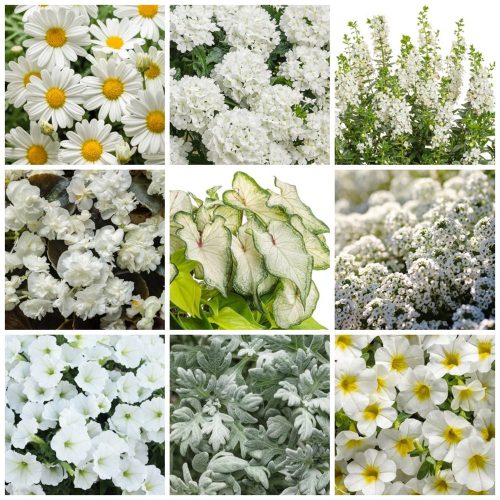 ANNUALS FOR MOON GARDENS
Pictured from top left:
Pure White Butterfly® Argyranthemum
Superbena® Whiteout™ Verbena
Angelface® White Angelonia
Double Up™ White Begonia
Heart to Heart® 'White Wonder' Caladium
Snow Princess® Lobularia
Supertunia Vista® Snowdrift™ Petunia
Silver Bullet® Artemisia
Superbells® Over Easy™ Calibrachoa
PERENNIALS FOR MOON GARDENS
Pictured from top left:
Festival Star® Gypsophila
Stratosphere™ White Gaura
Dolce® 'Silver Gumdrop' Heuchera
Magic Show® 'White Wands' Veronica
Color Coded® 'The Price is White' Echinacea
'Opening Act White' Phlox
Daisy May® Leucanthemum
'Jack of Diamonds' Brunnera
Pink Chablis® Lamium
SHRUBS FOR MOON GARDENS
Pictured from top left:
Incrediball® Hydrangea arborescens
'Miss Pearl' Buddleia
Wine & Spirits™ Weigela
White Album® Euonymus
Reminiscent™ Crema Rosa
Sugartina® 'Crystalina' Clethra
Perfecto Mundo® Double White Azalea
Little Lime® Hydrangea paniculata
Fairytrail Bride® Cascade Hydrangea