10 Ideas for Cozy Outdoor Spaces
When summer arrives, we want to spend every moment we can soaking up the sunshine and fresh air. Instead of being couped up in front of the TV at night, we move our living spaces out onto our decks or under our pergolas and build a fire in the outdoor fireplace. If you're looking for some new ideas on how to create a cozy space in your own backyard, the 10 ideas in this article are the perfect place to start.
1. Escape to Your She Shed
Sometimes you just need a place to escape to that's all your own. Wouldn't it be fun to renovate your old shed out back or build a new one that's designed just the way you like it? It can become your quite space to indulge in a summer romance novel, catch up with a few close friends, or take a nap on a Saturday afternoon. Surrounding it with flourishing flowers creates just the right uplifting ambiance. Learn more about the plants used here and see more pictures inside this she-shed here.
2. Surround Your Seating Area with Lush Greenery
Amp up the oxygen and feel immersed in nature when you surround your outdoor living spaces with lush greenery. This small deck is made even cozier by the addition of the trumpet vine growing on a pergola above the seating area. Deck rail boxes and upright pots are intentionally filled with flowers that draw in hummingbirds and butterflies for an up-close show.
3. Leave Space for Self-Renewal
You might be tempted to fill your outdoor living area with patio furniture, but you might consider designating a special nook for self-renewal activities like yoga or meditation or for exploring a creative pursuit such as writing or painting. The addition of a water fountain in this space creates just enough white noise to obscure the sound of traffic passing by out front — especially helpful when trying to create a peaceful atmosphere.
4. Grow What You Eat Within Reach
The containers on this sunny balcony are all dedicated to plants this condo dweller can consume — from Berried Treasure strawberries that can be plucked and eaten right from the vine to the basil they use to make cocktails in the evening. The fresh scent of these plants enjoyed up close almost makes you feel like you are in the garden even though you are really three flights up.
5. Cozy Up Around an Outdoor Fireplace
An outdoor fireplace is an ultimate luxury, especially if you live where the nights can get a little chilly. Add some softly cushioned chairs, pull up a table to hold the wine and cheese, and invite your pup in to share the cozy space with you and your loved ones. Including purple fountain grasses and warm-toned flowers in your containers will give it all the fall feels. For a more tropical vibe, swap them out for flowering Mandevilla vines and fragrant lemon grass.
6. Carve Out a Nook for Relaxing
Though the expanse of this deck was designed for entertaining, the separate space to the left where the deck drops down a level was carved out just for relaxing. This is the space to go when you need to escape everything and everyone for just a few minutes. Lie down, enjoy being surrounded by joyful blossoms and lush greenery, and calm your mind. Where could you carve out a little space like this just for you in your backyard?
7. Build an Outdoor Room
Building a gazebo like you see here is easier than it looks. You can purchase a kit that contains everything you need to build your own outdoor room at home improvement stores and online retailers. This couple did just that, then stained it dark to match their deck. Now they have an elegant, shaded space to relax and share their morning coffee. Learn more about how this project was tackled and the plants used to fill the space here.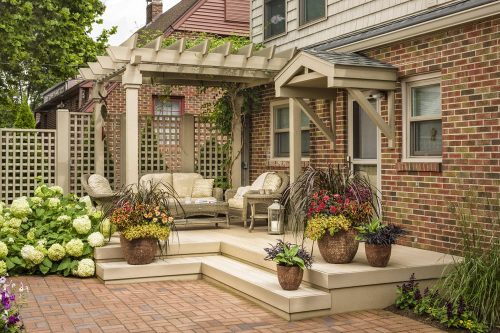 8. Enhance and Expand an Existing Space
Take a look at your existing outdoor living space and try and see it from a new perspective. How could you make it feel more like a place your family would want to spend more time? In this photo, the original deck was a very small space located directly out the back door. The new homeowners extended it back to the far side of the home, then added latticework for privacy and a pergola overhead for shade. Now, there is plenty of space for their family of three to relax. Deep red, peach and gold-toned plants help to create a warm atmosphere.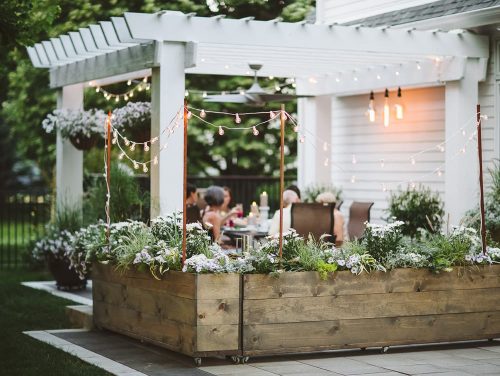 9. Define Your Outdoor Living Area
This expansive patio didn't have a cozy feel to it until the space was broken up into defined areas — one for eating, another for lounging, and the rest for the kids to play. Large planter boxes were built with wheels so they could be moved to redefine the space as needed. If your backyard lacks definition, consider how you might better define the space with the addition of planter boxes, pathways, more clearly defined edging, or raised beds.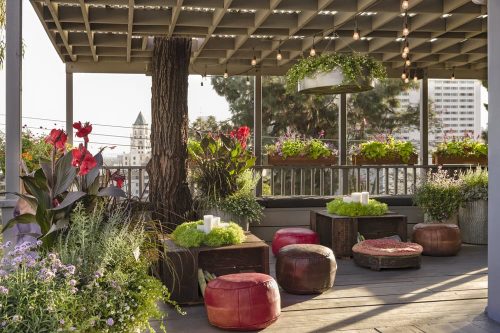 10. Grow a Garden on Your Rooftop
Rooftops across North America are home to some of the most unique garden patio spaces. They present their own challenges like finding a water source, dealing with strong winds and intense sun, and needing to use lighter weight materials, but when done well, they can be fabulous. The rooftop garden of the two-story home pictured here was embellished with numerous rail boxes, upright planters and wooden crate planters to bring the garden up onto the roof. Plush poufs encourage visitors to come and sit awhile while they enjoy the view.