5 Ways to Make Your Garden Feel More Tropical
When I visit southern Florida, there's always one simple pleasure I look forward to — exiting the airport doors and stepping out into the warm, humid air for the first time. There's an instant rush of oxygen as I take in the lush plantings around me. Things I've only grown as small houseplants overflow in containers and palms sway in the bright blue sky overhead. If only I could recreate a bit of that in my own Midwest garden! Or maybe I can…
Let's take a look at five elements of tropical gardens that anyone can bring to their patio and landscape no matter where they live, even if it's not southern Florida.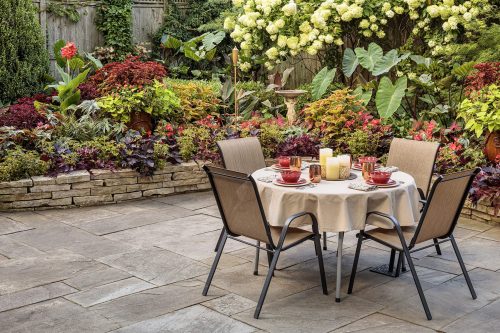 1. A Warm Color Palette

Tropical gardens don't just exist where temperatures are warm, they also are filled with flowers and foliage that fit a warm color palette. Think fuchsia, gold, juicy tangerine and scarlet when choosing plants for your tropical-themed garden instead of cool blues and lavender. These warm tones will bring a welcoming, spirited feeling to your outdoor living areas.
2. Fragrant Flowers

Every tropical garden needs fragrant flowers whose scent will float on the humid afternoon breeze. Plan to have at least a few containers near your outdoor seating area that contain plants like fragrant sweet alyssum and lemongrass. In the surrounding landscape, hardy plants like honeysuckle vine, lilacs, abelia and coneflowers will provide fragrance while also drawing pollinators in. With a little planning, you can have something with fragrant flowers blooming in every season.
3. Bold Foliage

Plants with bold foliage exist in every tropical landscape and they can in yours, too. Look for annuals, perennials and shrubs with large and/or vibrantly colored leaves and plant them in abundance to create the jungle-like feel of a tropical garden. Here are a few examples:
ANNUALS with bold foliage: Elephant ears, caladiums, cannas, coleus, annual grasses, tropical ferns, many kinds of houseplants
PERENNIALS with bold foliage: Hostas, coral bells, foamy bells, rose mallow, ligularia, aralia, perennial grasses and ferns
SHRUBS with bold foliage: 'Aphrodite' sweetshrub, Loropetalum, crapemyrtle, elderberry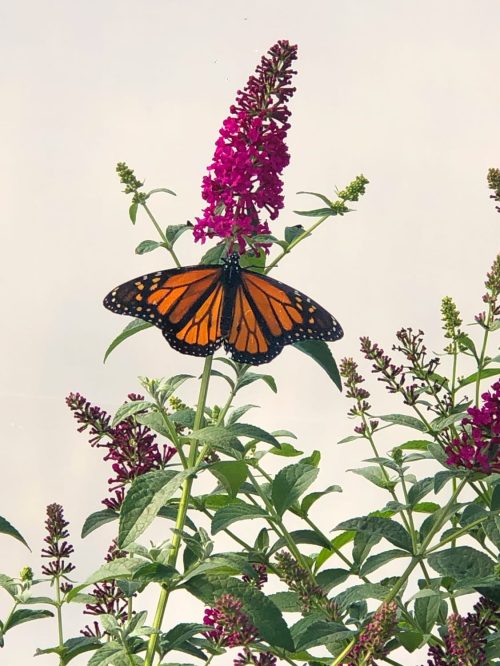 4. Flowers That Butterflies and Hummingbirds Adore
Tropical gardens are filled with butterflies, hummingbirds and other brightly colored birds that find shelter in the lush foliage and nectar in the blossoms. When deciding what to plant in your tropical themed containers and landscape, pay close attention to the kinds of plants that will draw these winged
beauties in.
Annuals like Chicklet™ Orange Tecoma and Austin Pretty Limits™ oleander will provide a beautiful food source for them all season. Hardy plants like allium, coreopsis and butterfly bush have more specific bloom times you can use to plan out a succession of flowers from spring to fall. Here is a list of plants we
offer that attract butterflies.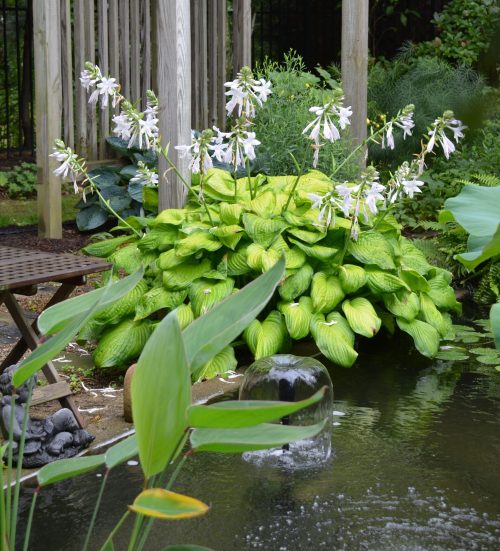 5. Water Feature
Find a way to bring in the element of water when planning your tropical-themed garden. It's an essential element of this garden style and is easier than you might think to implement. If your space is small, a tabletop or wall fountain can be enough to bring in the calming sound of trickling water. Pre-formed ponds found at home improvement stores also offer easy options for adding a water feature. Surround it with bold foliage plants like the hosta you see pictured here, add a few water plants with large or colorful leaves, and you are well on your way to creating a tropical oasis.
Ready to look for plants to fill your new tropical-themed garden? Start here