A 'Punch' of Color for Combinations
A Garden Crossings Favorite! Superbells® Pomegranate Punch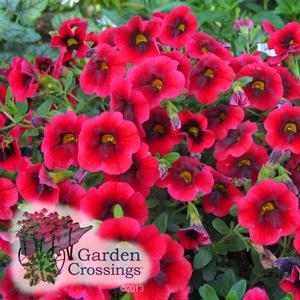 Are you looking to add a 'punch' of color to your landscapes or annual combination planter? Let me introduce to you Superbells® Pomegranate Punch. In general, a red petunia or calibrachoa really doesn't do much for me, that was until I was able to trial Superbells® Pomegranate Punch.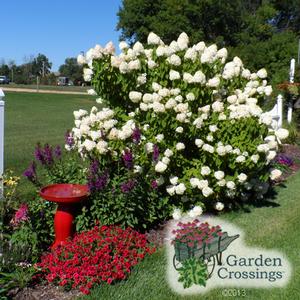 This past summer I received a garden writer's sampler of annuals, perennials, and shrubs from Proven Winners®. I am a firm believer that I want to see and or trial a plant in a real setting before I recommend it to you. Superbells® generally are used in a container combination, but I put Superbells® Pomegranate Punch to a real test by planting in not only a pot, but in my landscape. You will see in the pictures how well this plant did in my landscape. The bright red blooms with the dark burgundy red eye were stunning! I loved how they complimented the red birdbath that I used as an additional accent to my garden. In the picture, all those blooms are from one 4.5″ plant. Standing about 4-6 inches tall, this jewel spread more than 24 inches. I do recommend that you add a slow release fertilizer to your ground when planting.
If you are looking to put a striking combination together, I recommend: Evolvulus Blue My Mind, GoldDust™ Mecardonia, Superbells® Pomegranate Punch, & Diamond Frost® Euphorbia. You may even want to add Cyprus Baby Tut for an upright thriller.