Spring Bloomer With Many Size Options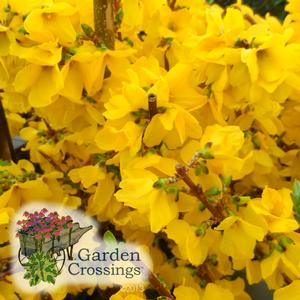 A fresh spring day leads to a walk around the neighborhood. On this walk you see a large, beautiful shrub that is blooming yellow. You love the look of it but again, you just don't have a yard or garden that will fit it. No worries, we carry Forsythia in several size options.
Known for its beauty in the spring, the Forsythia has been around for quite some time. Often the older varieties look scrappy and just not that great. Well, there are some new kids in town and they will perform just as you would want a statement shrub to look. The Show Off® family of Forsythia has been bred to flower from 'tip to toe'. This is unique as older varieties of Forsythia generally do not bloom on growth that is less than a year old.
If you are looking for a larger statement shrub, we recommend planting Forsythia Show Off®. This is the original in the Show Off® family. Standing 5-6 foot tall, large bright yellow blooms cover them stems to create a ball of sunshine in your garden or landscape.
If Show Off® seems like it maybe just a bit too big for your location, we offer Show Off® Starlet. In the spring Starlet produces bountiful flowers that once again cover the stems from 'tip to toe'. Standing 3-4 foot tall, this is a step down in size but not in performance.
So you are still thinking that those are just too big for your garden, no problem we have one more Show Off® to tell you about. This little guy is called Show Off® Sugar Baby. We realize that not all gardens or gardeners are the same and that options need to be available. Standing a mere 2.5 foot tall, this knee high option can easily tuck into the smallest gardens. Show Off® Sugar Baby can be used as a border, specimen, or even works nice in a combination planter.
Forsythia are hardy in zone 4-8 and prefer to be grown in full sun. All sizes are a perfect addition to cut flower arrangement. If deer are a problem in your garden, no worries, the Show Off® series of forsythia are deer resistant.