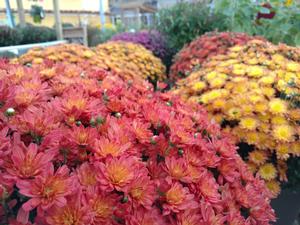 Sunflowers are a beautiful and bright reminder of summer brightness and sunshine but they are also fabulous in fall container creations. Sunflowers can hold their own in a container planted alone but they are equally magnificent when planted in combination with Heuchera, Ornamental Grasses, Ornamental Peppers, Flowering Kale, Celosia ("cockscomb"), Garden mums and/or Pansies. Using a trio of thriller, filler and spiller plants will easily create a fall combination that is both stunning and appropriate for the cooler fall temperatures and will last until first frost.
There are several different combination types to choose from and create depending on your favorite colors or decor. A great combination for pink color lovers is a Pink Mum, White Flowering Kale, and 'Intenz Lipstick' Celosia. These three are a perfect trio and compliment each other with their colors of pinks and greens. I love the foliage of the 'Intenz Lipstick' Celosia with its blend of pink and green and the White Flowering Kale not only adds shades of green color but texture as well with its crimped leaves.
For purple lovers, some great combinations are 'Red' Flowering Kale, Purple Mum, and Heuchera 'Grape Expectations' or this combo of Plumberry Mum, Heuchera 'Berry Smoothie', and Pennisetum 'Fireworks' Ornamental Grass. All of these purple combinations of plants that have an aspect of purple in them create wonderful fall combinations that will please your fall decorating style.
For those who lean more towards reds, yellows and oranges for fall, there are several choices available as well. Some great combinations are Orange Mum, 'Intenz Purple Dark' Celosia, and 'Red' Flowering Kale; Graceful Grasses® Toffee Twist, Jacqueline Orange Fusion, Purple Ornamental Peppers.
All of these combinations bring together the wonderful changing colors that fall embraces and will capture the essence of fall. Bring height, color and texture to your combinations with these exceptional Fall Accent Plants. Be creative, have fun and select your favorite Fall Accent Plants to satisfy your outdoor fall decorating needs.