Planting and Baking with Elderberry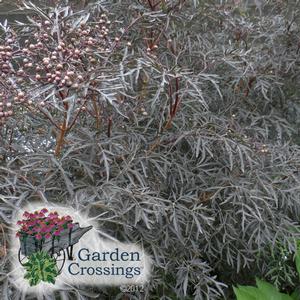 When you decide to plant a shrub, you are more than likely thinking about a shrub that will last for quite some time or one that will provide some type of interest in your landscape. With Black Lace™ Sambucus you will get those benefits as well as an edible treat. If you enjoy planting and baking, you will enjoy this Proven Winners? Color Choice? Flowering Shrub.
Black Lace™ Sambucus is a newer plant on the market that looks similar to a Japanese maple or Cimicfuga but is easier to grow. Sambucus exhibits lacy, deep, dark, purple-black foliage that produces masses of pink clusters of flowers in midsummer as well as a light lemony fragrance. You will love the contrast these pink flowers have against the dark foliage. The lacy foliage of Black Lace™ will give your garden texture as well. This Sambucus is an excellent grower and extremely durable. Black Lace™ Sambucus is a large shrub growing 6-8' tall and 4-5' wide. This shrub can be planted in full sun or partial shade and you will love it's deer resistant qualities. Its hardiness zones are 4-7.
Another great quality that you will enjoy about Black Lace™ Sambucus is its berry producing ability. In late summer, early fall, deep, dark, black berries will take the place of the pink flowers you have enjoyed during midsummer. These black berries can be harvested to make a tasty elderberry jam. The flavor of this jam is deep, dark and delicious. Elderberries are members of the honeysuckle family. Because of their tart taste, they are best used in jams and jellies. Elderberries can also be used fresh, dried or frozen. The waxy substance released by the stems of the Elderberry may make it difficult to harvest them. A recommendation in aiding this removal is freezing the branches before removing the berries. Always protect your clothing when working with Elderberries as they have staining properties.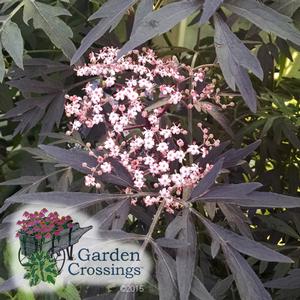 When searching the web I found a recipe for you to try from Kraft and Sure Jell?:
3 cups prepared juice (buy about 6 qt. or 3 lb. fully ripe elderberries)
1/4 cup fresh lemon juice
1 box SURE-JELL Fruit Pectin
1/2 tsp. butter or margarine
4-1/2 cups sugar, measured into separate bowl
Instructions for preparing the jelly:
Bring boiling-water canner, half full with water, to simmer. Wash jars and screw bands in hot soapy water; rinse with warm water. Pour boiling water over flat lids in saucepan off the heat. Let stand in hot water until ready to use. Drain well before filling.
Remove and discard large stems from elderberries. Crush fruit thoroughly; place in saucepan. Cook on medium heat until juice starts to flow, stirring occasionally. Reduce heat to low, cover and simmer 15 min., stirring occasionally. Place 3 layers of damp cheesecloth or jelly bag in large bowl. Pour prepared fruit into cheesecloth. Tie cheesecloth closed; hang and let drip into bowl until dripping stops. Press gently. Measure exactly 3 cups prepared juice into 6- or 8-qt. saucepot. (If necessary, add up to 1/2 cup water for exact measure.) Stir in lemon juice.
Stir pectin into juice in saucepot. Add butter to reduce foaming. Bring mixture to full rolling boil (a boil that doesn't stop bubbling when stirred) on high heat, stirring constantly. Stir in sugar. Return to full rolling boil and boil exactly 1 min., stirring constantly. Remove from heat. Skim off any foam with metal spoon.
Ladle immediately into prepared jars, filling to within 1/4 inch of tops. Wipe jar rims and threads. Cover with two-piece lids. Screw bands tightly. Place jars on elevated rack in canner. Lower rack into canner. (Water must cover jars by 1 to 2 inches. Add boiling water, if necessary.) Cover; bring water to gentle boil. Process 5 min. Remove jars and place upright on towel to cool completely. After jars cool, check seals by pressing middles of lids with finger. (If lids spring back, lids are not sealed and refrigeration is necessary.)
Adding the Black Lace™ Sambucus, Proven Winners? Color Choice™ Flowering shrub to your garden or landscape has many benefits including color, interesting foliage and fragrance as well as added baking uses. When planted among other annuals, perennials or shrubs with bright foliage, it will add even more interest and depth to the garden or landscape.