Great in Combinations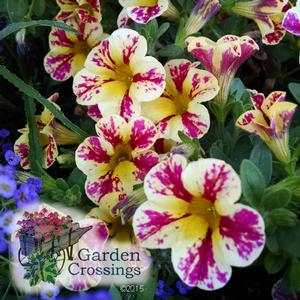 Holy Moly!™ is what you say when something has a staggering effect on you. I love Superbells? and their petunia like appearance. Actually, that is exactly what they look like, mini petunias. It is often hard to resist adorable little flowers and this new annual for 2016 will be one that you will want to add to your containers, hanging baskets and landscape or gardens. Let's take a look at one of the new 2016 Proven Winners? annuals, Superbells® Holy Moly!™
If you love Superbells® Cherry Star , then you will equally love, Superbells® Holy Moly!™ . Holy Moly!™ is a mottled yellow and cherry-red star bi-colored mounding-trailing calibrachoa hybrid. The cherry-red color displayed in this flower is broken in its stripes with a more pronounced, solid yellow base. At just one glance, you will be taken in by its appearance and telling yourself you need to incorporate this new annual into your garden. When planted in masses in your landscape or combined with other annuals in your containers, this flower will leave a lasting impression.
Superbells® Holy Moly!™ will abundantly flower all season long from its planting to hard frost. This long blooming calibrachoa is a hard working plant that is heat tolerant and needs no deadheading. The hummingbirds will love this trumpet shaped like flower and you will too with its easy maintenance! Average watering with good drainage is the key to keeping this calibrachoa looking its absolute best. No need to water this new annual on a daily basis because too much water will cause root rot. Please fertilize once a month to keep Holy Moly!™ nutrient rich. Trimming Holy Moly!™ slightly will help your plant to branch out more and become fuller. This will also stimulate new growth and flowering and everyone wants a fuller, healthier looking plant!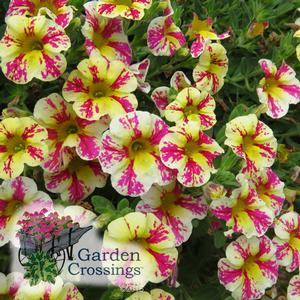 Pick a part sun to sun area to plant Holy Moly!™ and it will perform best for you. This calibrachoa is short with a 6-10" height but will take on the spiller role in your containers. It is beautiful when paired with Sunsatia® Lemon Nemesia or Supertunia® Limoncello. I would also suggest a hanging basket of Superbells® Cherry Star and Supertunia® Black Cherry with Holy Moly!™. Or if you are looking for some appeal to your garden or landscape, add Holy Moly!™ in masses or singly in several different places for a remarkable look that will brighten those "blah" areas or compliment your perennials or shrubs. When planting in your landscape or garden, remember that Superbells® Holy Moly!™ needs to be spaced 8-10" apart and has a spread of 12-18" with a trailing habit of up to 18".
Give Superbells® Holy Moly!™ a try and you will not be disappointed. This green foliage annual displays such a bright yellow flower with cherry-red stripes that will be incredible in your garden from spring through fall. And with the added benefits of easy maintenance such as, average watering, once a month fertilizing and no deadheading!