Bold & Beautiful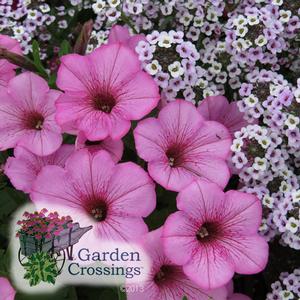 I know you are thinking how many pink Petunias does one really need or want. But what if I told you they just keep getting better. Your old tried and true may no longer be the best thing out there. You're paying for the plant, why not get the best plant for your money!
I know I talk a lot about Proven Winners® but I do truly believe that many of their offerings are the best choices out there. For example, you can't deny that Vista Bubblegum, Silverberry and Fuchsia aren't the greatest petunias ever. New for 2014, we are adding Supertunia® Flamingo. My initial thought was, another pink, it looks a bit different, I guess, let's see what it does. So I put it to the test… I had 3 plants that I planted in a triangle about 18″ apart hoping they would fill in. Two started to grow nicely while the third was a delicious lunch to our local rabbit. But not to fear, once the rabbit found another delightful plant that third plant shot off like a rocket and caught up with its friends. I planted in the beginning of June and by Mid July an area of 24-30 by 48 inches was completely filled in. So besides the fact that this plant fills in nice, what is so special about it? The pink coloration of Supertunia® Flamingo is a medium pink with almost an iridescent sheen over it. Each blossom has a unique dark pink veining that is very obvious when you look at it. The flower power is amazing! In the picture I have of 'Flamingo' after 2 weeks of planting you will notice all the blooms from just one plant. After 6 weeks in the ground all three plants were touching and filled the area in beautifully. The nonstop flowers lasted until the end of September, and even into October I still had some color. Supertunia® Flamingo is a bit shorter than Vista Bubblegum, standing 8-16 inches, and has more of a ground cover habit than the tall mounding habit of Bubblegum. I planted mine next to Lobularia Blushing Princess™ and they were a great pair. Little to no maintenance, no dead heading was required, Supertunia® Flamingo just keep going strong all summer into fall.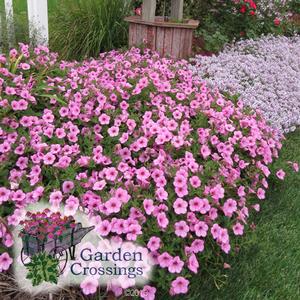 As with all annuals we do recommend feeding them a slow release fertilizer at least once a season and a water soluble every week or two depending on how much you water. Ground plantings generally require less fertilizer as the feed stays in the ground longer than if in a hanging basket. The petunias in the picture were feed a slow release once and a water soluble feeding once last season.