One rose. It was the only plant the former owners of my Michigan home asked to take with them when I moved in around May 2005. The rose had once belonged to his mother and now it was moving halfway across the country to find a new place in their Idaho garden. That left precisely zero flowering plants in my new landscape. It was a blank slate with an underlay of prolific groundcovers thriving under a canopy of tall trees.
I didn't notice the rhododendrons until June when they all burst into glorious shades of vivid red, deep purple and lavender blush. That was when I truly fell in love with my garden. It's been a 16 year long love affair ever since.
Have you ever looked at a beautiful, lush garden and wondered how it got that way? What does it take to grow a mature garden? Let me tell you my story and share some lessons I've learned along the way.
In the beginning, there were trees and groundcover. Lots and lots of groundcover blanketing nearly every inch of my shady zone 6a property. English ivy dominated, though Japanese pachysandra has proven more durable through the years. Both completely carpeted the forest floor beneath a tall canopy of red oak and white pine trees.
The native soil here is pure white beach sand which I am told runs 80 feet deep under my home. It's not surprising since the sand dune-lined shore of Lake Michigan lies just three houses to the West. Having grown up gardening in heavy, pot-throwing clay, I was stunned at the amazing drainage my new garden soil offered but didn't realize back then that soil nutrients were nearly completely lacking.
I went to work at a local greenhouse which inevitably resulted in me bringing home a few plants to try in my new landscape. The first time I tried to dig a hole, I realized how tough groundcover is—this was not
going to be easy. I became very discouraged and decided to just live with the groundcover for a little while. Who needed flowers anyway?
My mistake: Giving up too soon. Where there's a will, there's a way! That's what my momma always told me, but I had forgotten those wise words. Next time, I'll look harder for solutions to problems that pop up before it's too late.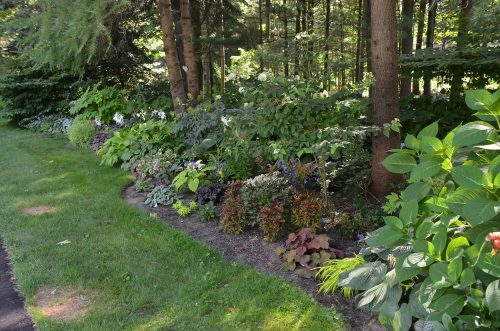 Several years later, I decided I couldn't live without flowers. I was going to have to find a way to grow a garden on a sand dune under the heavy shade of tall trees in a bed of groundcover. I set out to take my chances and find a solution.
Like many gardeners who are just getting started, I began by widening the existing main garden bed and shrinking my lawn. Soon after, several Colorado blue spruce trees that had cast deep shade on that bed succumbed to needle cast disease (Rhizosphaera), which allowed a few more hours of valuable sunshine to reach the space. I began to plug in a number of plants that prefer part sun like coral bells, hydrangeas and coleus to see how they would grow and took notes on what worked and didn't.
My mistake: Failing to set a long term goal for my front garden bed. Blame it on my youth and inexperience. I wish I would have planted more evergreens and shrubs with winter structure as a backdrop when I began. Next time, I will start with a vision and work each year towards completing it.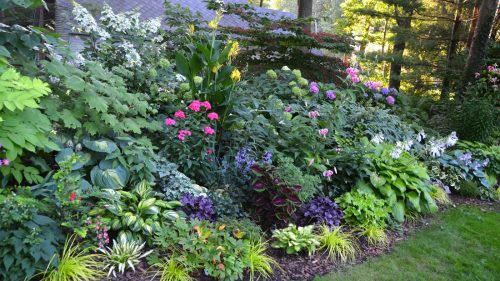 Approaching Completion – 2018
Within just a few years, I had amassed a gorgeous tapestry of plants for my main garden bed. Those years were filled with routine trips to garden centers in spring, summer and fall, lots of transplanting to find just the right spot for each plant, and more trial and error than the average Joe.
I figured out which kinds of plants grew well in my sandy, shady garden and collected more like them to fill the bed. Hellebores, foamflowers, hostas and sedges returned with gusto each year. Colorful annuals like coleus, begonias and cannas provided pops of color when the perennials cycled out of bloom. Relatively fast-growing, hydrangeas, viburnums and sweetshrubs created a new backdrop in the absence of the spruces. I updated my automatic sprinkler system to ensure all of my new plants were well- watered. I was thrilled at the results of my efforts!
My mistake: Not sharing my garden with more people. Looking back at these photos, my garden really was an amazing place that could have been enjoyed by more people. Though I did host a few garden tours and my neighbors enjoyed the view, I could have been more proactive in sharing my garden with others. I want everyone to know what is possible when faced with challenging growing conditions.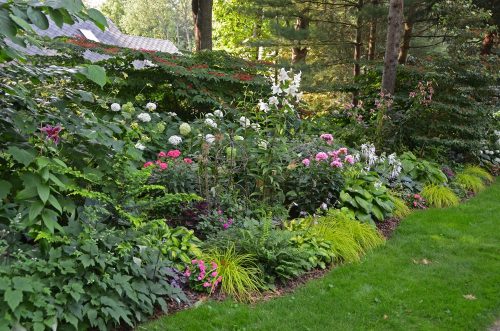 2021 presented a number of gardening challenges beginning the day the snow melted. My landscape looked like the runway system at LaGuardia airport! Voles had been having a field day all winter long under a thick canopy of snow and my lawns and garden beds were much worse for the wear. Many bulbs in my front garden bed, including at least 150 fragrant hyacinths, plus a number of my favorite coral bells and hostas were demolished. Voles had eaten them from the roots all the way up to the crown.
I set to work immediately setting traps and spreading vole repellent throughout all of my garden beds and lawn areas. Fortunately, within a few weeks I didn't see any more vole action. Fingers crossed they will stay away this winter.
Setback #2 came in mid-spring just as planting season arrived—my knee gave out. My digging knee! Having never hired a landscaper for my garden before, it didn't occur to me to ask for help until I physically could not dig a hole anymore. I put out a plea for assistance and thank goodness, a local Master Gardener swooped in to save the day. She did an amazing job planting and transplanting several large shrubs and edging all of my garden beds.
Finally, like many of you, time was my biggest challenge this year. There simply wasn't enough of it. I worked too much, played too little, and my garden showed it. I did what I needed to get by, but the end result wasn't as beautiful as I had hoped. I resolved to do better next year.
My mistake: Not taking the time to smell the roses. Life is too short not to enjoy the fruits of your labor. Get out into the garden while you can!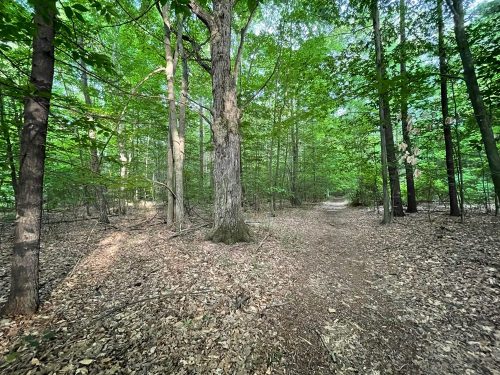 I found the property of my dreams and signed on to build a new home and garden in 2022. Just when I had finally achieved the results I was hoping for with my garden, I decided to move. I am starting over again with a blank slate.
Many plants will make the move with me but most importantly, all of the lessons I have learned from growing this garden will come along and act as my guide as I dream up a brand new garden. I imagine it will take a decade or more to achieve my vision, but all great things take time and I know I will get there. The learning never stops when you're a gardener.
6 Words of Wisdom for Growing a Garden:
Gardening is a process, not an event. Enjoy the journey.
Start with a plan and do one small thing every day to work towards your goal.
Be realistic. Grow a garden that fits your lifestyle, your schedule and your budget.
Don't give up! When faced with setbacks in your garden, keep going.
Celebrate your successes. Enjoy the fruits of your labor, literally. Take time to smell the roses.

Take lots of pictures to track how your garden matures through the seasons and over time.

Share your garden with your friends and loved ones. There's nothing sweeter than sharing the 

bounty.