Buddleia and Butterflies Unite
Be Inspired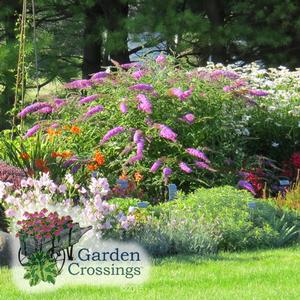 If you love butterflies and hummingbirds and want to attract them to your garden, butterfly bushes are your answer! With several varieties and colors, you can select your favorite color or colors and enjoy watching butterflies and hummingbirds flock to your garden. There are three larger sterile varieties that will bring fabulous color, scent and attraction to your garden.
Inspired™ Violet Buddleia is a beautiful butterfly bush that exhibits large violet flowers on a panicle that lengthens as the buds open. This sweet smelling flower attracts butterflies and hummingbirds with tasty nectar. If you love Monarchs, this will attract them to your garden! Inspired™ Violet can be anywhere between 4'-10' in height and 4'-10' in width depending on your location geographically, being north or south. This bush has a rounded habit that blooms from midsummer until late summer and it's seedless nature means more beautiful blooms!
Inspired™ White and Inspired™ Pink Buddleia are added options to attract butterflies to your garden. These two butterfly bushes range from 4'-8' in height and 4'-8' in width and are also seedless as well as fragrant. Both exhibit lengthy panicles with tiny florets perfect for the nectar loving butterfly and/or hummingbird.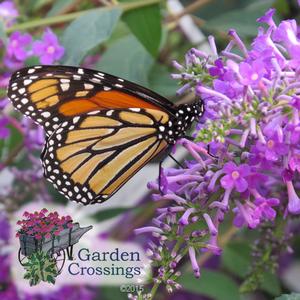 All three of these butterfly bushes are Proven Winner® Color Choice® shrubs. They are ideal for planting in mass, as a specimen plant or for foundation planting. Butterfly bushes are sun lovers that are drought tolerant and can live in moderate to dry soils. If you have clay soil, I recommend adding a mixture of sand and compost to your hole before planting. These flowering shrubs do not like to sit in water. They are deer resistant which makes them even more appealing to the gardener who has deer that like to munch on their garden plants! I trim my butterfly bushes to knee high in the spring to keep them looking fresh and well maintained. Butterfly bushes also make great cut flower arrangements that can be brought indoors for all to enjoy! Adding other fresh cut flowers from the garden or even the plumes from ornamental grasses will add "wow" factor to your bouquet.
Create your own butterfly and hummingbird oasis by adding one, two, or more of these fragrant, flowering shrubs to your garden. But don't stop there! You can add nectar producing perennials and/or annuals to satisfy the butterfly and hummingbird appetite. I love butterflies, hummingbirds, the fragrance and beautiful colors of these butterfly bushes!