Hatching This Spring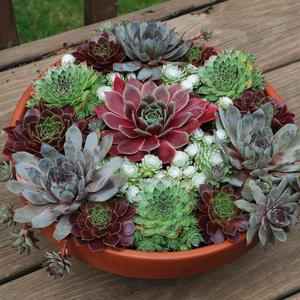 Getting the 'coop' ready, Chick Charms® are here! We are so excited to introduce to you hand picked Hen & Chick selections that complement each other as well as your garden. Drought tolerant and easy to grow it is time to start filling your 'coop'.
New this year we bring to you Chick Charms®, a drought tolerant succulent that currently has 12 unique colors and textures in the collection. Hardy in zones 3-9, Chick Charms® can virtually be grown is just about every garden. What makes this collection of Hens and Chicks unique? The time and trials that have been put into them. The plants selected for the Chick Charms® collection have been selected based on seasonal color, texture and the ability to look good spring through winter.
Standing 2-3 inches tall and spreading up to 12 inches, Chick Charms® are a great addition for rock gardens, walls, borders, and ground covers. Locations that are typically hard to grow in due to poor soil or lack of water are the perfect locations for Succulent Hen and Chicks. Maybe ground plantings are not for you or you just don't have the space, no worries, Chick Charms® are great for container gardens as well. Mix and match a few of your favorite colors and patterns for a stunning look that requires little care. As your plants grow so will your garden. Many of our Chick Charms® consist of one large rosette (the "hen") and many smaller rosettes (the "chicks") which can be pulled up and replanted elsewhere to start new plants.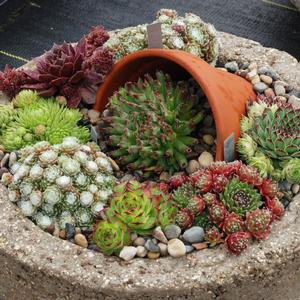 You may be asking yourself "Where do I start when building my 'coop'"? Let me tell you about a few of my favorite 'Chicks'!
To start with you may consider Chick Charms® Fringed Frosting™ . This great variety will offer your collection the cobweb look. Smaller rosettes, but loads of them with a white stringy/cobwebs on the top. Next you may also want to add a bright green to the mix such as Key Lime Kiss™, again smaller rosettes but a lot of them. Now that you have a couple selections that are small but create lots of rosettes you will want to add a few larger Hens to the mix. Appletini™ forms a larger rosette up to 8 inches wide. It features a bright green color with deep burgundy tips, it adds a real 'pop' to the combination. Chick Charms® Cherry Berry™ is a must have! In its prime Cherry Berry™ has an intense cherry red color that is breathtaking. All these colors together create an amazing complimentary display. But one must not forget the blues! Berry Blues™ will add the final touch you may be looking for, a blue gray color by summer and a burgundy gray in the fall.
All together Chick Charms® will be a great addition to your garden or patio, leaving you with a feeling of success no matter what your style of gardening may look like. Start thinking what your 'coop' will look like, Chick Charms® are hatching this spring!