Clematis 'Diamond Ball'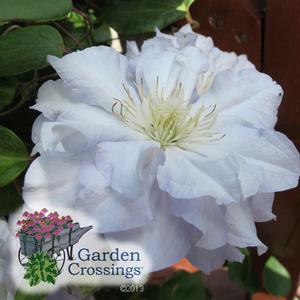 There is so much time and thought that goes into naming plants, but when the name is revealed it is so neat how perfect it fits. New for 2014, Clematis 'Diamond Ball', this jewel is going to shine in your landscape.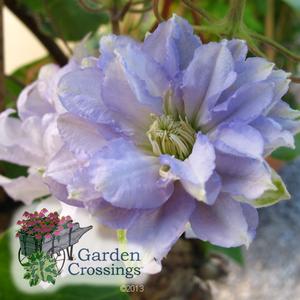 Clematis 'Diamond Ball' is a beautiful new introduction to the Proven Winners® plant family. Standing 5-6 foot tall, this garden beauty is short enough for container gardens or tall enough to work into your perennial gardens. Clematis are the perfect choice to add vertical color to your garden or landscapes. 'Diamond Ball' is a fully double flower that reaches 4-5 inches across. The crisp white blooms go through color changes from pure white to a soft lavender, the color changes are an added interest. The beautiful blooms appear from June – August, blooming on both old and new growth for an extended bloom time. Planted in full sun to part shade is where Clematis 'Diamond Ball' is most happy. We recommend with this and all Clematis, to mulch and or place another plant in front of the vine to shade the roots.