Cute and Compact, With Dainty Spring Blooms
Yuki Cherry Blossom™ Deutzia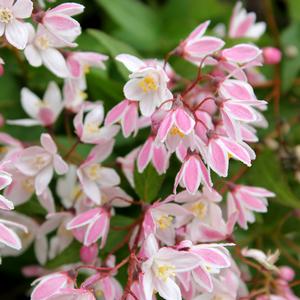 Are you struggling with finding the perfect shrub that will give you spring flower color yet have interesting foliage for the rest of the season? Let me familiarize you with the Deutzia family of shrubs.
We currently offer 4 varieties if Deutzia, each with its own unique attributes. New for 2014, is Yuki Cherry Blossom™ Deutzia. Standing approximately 2 foot tall, Cherry Blossom™ blooms in the late spring with unique pink and white blooms. The fun thing is, that even before the blooms open, you will enjoy the flower buds that are equally as colorful. The dainty cluster of blooms are fragrant for your added enjoyment. In the fall the bright green foliage turns to burgundy, putting on its second show of color.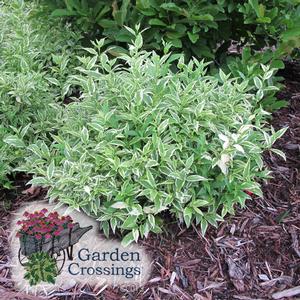 Another Top Selling Deutzia that was introduced in 2013, is Crème Fraiche™. The unique attribute to point out about Crème Fraiche™, is that it has variegated foliage. The grass green leaves are edged with a wide margin of crème. In the spring, like Cherry Blossom™, Crème Fraiche™ produces cluster of fragrant flowers, the only difference is they are white. The variegated foliage will take you from spring to fall for a full season of color interest.
If fun foliage color is what you are looking for, you may consider Deutzia Chardonnay Pearls®. The charming chartreuse green foliage brightens up any garden or landscape. The more sun it gets the brighter, more interesting the color. Chardonnay Pearls® produces clusters of white flowers in the spring that are preceded by strings of 'Pearls' that last for weeks just waiting to explode.
In General, Deutzia are a compact shrub reaching between 1 and 3 foot depending on the variety. They are great for use as a border, ground cover, or in container combinations. Their season of color is extended beyond the spring when they bloom, into the summer and fall with interesting foliage colors. Planted in a full sun location is where Deutzia are most happy, but will tolerate part shade, just don't expect as many blooms and the intense foliage color. Enjoy the sweet fragrance in the spring as the flowers start to open, a delightful scent to welcome you to your garden or home. Are deer a problem in your yard? No worries, Deutzia are Deer Resistant!