December: Gardening Activities
Our Average Daily High Temp for December is 34°F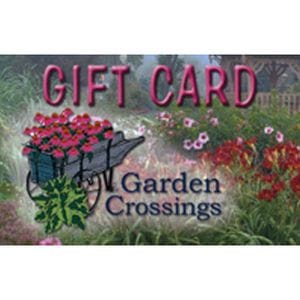 This month doesn't have a lot of inside or outside gardening chores for those of us in zone 5 or 6, and it's probably a blessing, since the holidays create busy-ness of their own. But there are a few things to keep in mind as you go about your preparations for celebrations.
Speaking of the holidays, why not give gardening-related gifts? There are beautiful potted plants, garden gloves, pruners, plant markers, gardening books, and gift certificates to local and online gardening centers. Garden Crossings can help you with your gift choices. Gift certificates are good any time of the year. Purchase one here!
Make sure your bird feeders are full. As the snow arrives, they find it more difficult to find food sources. Once you start feeding the birds, continue to do so, as they will come to count on your feeders as one of their reliable sources for meals.
Clean the dust off the leaves of houseplants. Wiping them gently with a warm wet cloth will clean them up just fine. Avoid the temptation to use leaf shining products. These may clog the pores of plants, who breathe through their leaves. This is the real reason the leaves need to be kept clean in the first place.
During or after a heavy snow, gently brush snowfall from the branches of trees and shrubs. When it's cold, these branches are more brittle and heavy snow can break them.
Catch up on garden reading. Get out those gardening books and begin to look for ideas for next year's garden. By the end of the month, the seed catalogs will begin arriving, reminding you that spring will come in just a few short months. If you have a live Christmas tree, once you take it down, cut the branches off and use them in the garden as mulch for plants that may need a little extra protection.
To-Dos:
Choose gardening gifts for friends, relatives, and neighbors. Don't forget gift certificates!
Feed the birds!
Give houseplant leaves a cleaning with a warm, wet cloth.
Keep heavy snow from lying on tree and shrub branches to avoid damage.
Read garden books and magazines to cull ideas for next year's gardens.
Use branches from your Christmas tree as mulch in your garden.
Enjoy the holidays!