Five Ways to Decorate a Shaded Deck or Patio
Just because your deck or patio is in the shade, it doesn't have to be dark, uninviting space. Let's take a look at five distinct styles you can decorate your space with this season. By the time we're finished, you'll know how to transform your shaded space into your favorite place to relax outdoors.
Modern Treehouse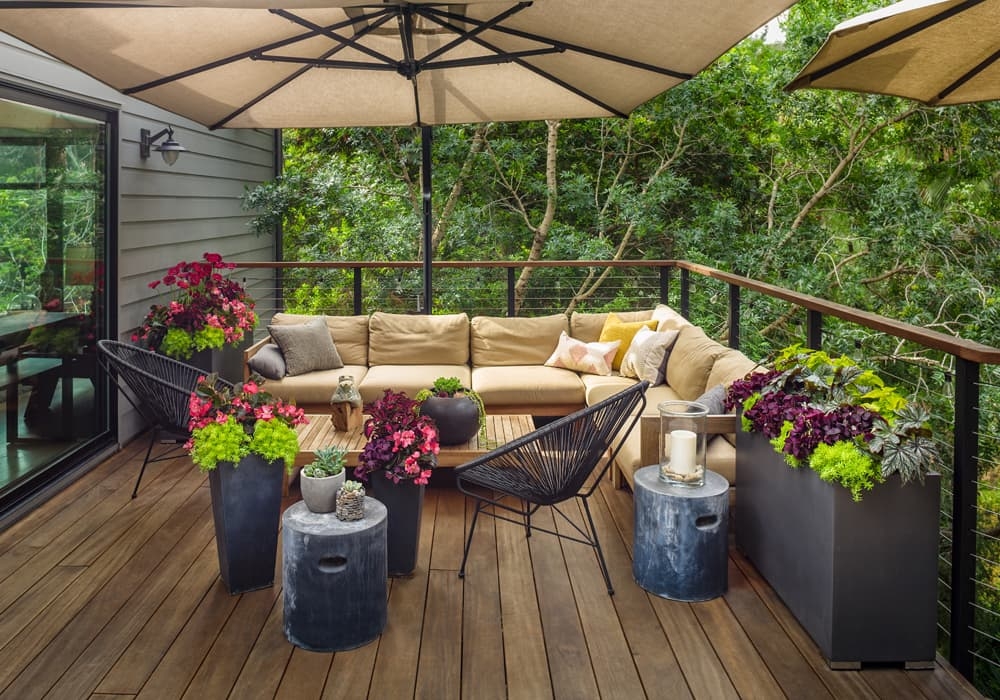 Surrounded by tall trees, this deck space has the feel of a modern treehouse. Look at all the lush color that accents the neutral, contemporary style patio furniture in this mostly shaded space. Vivid chartreuse Lemon Coral™ sedum pops against the smooth charcoal containers. Surefire® Rose begonias add a pop of pink, pairing perfectly with other shade loving, purple foliage plants like ColorBlaze® Velveteen® coleus and Charmed® Wine oxalis. In the back left container where a bit more sunlight comes through, Hello! Magentamen gerbera daisies act as a perky thriller.
Perennially Focused Patio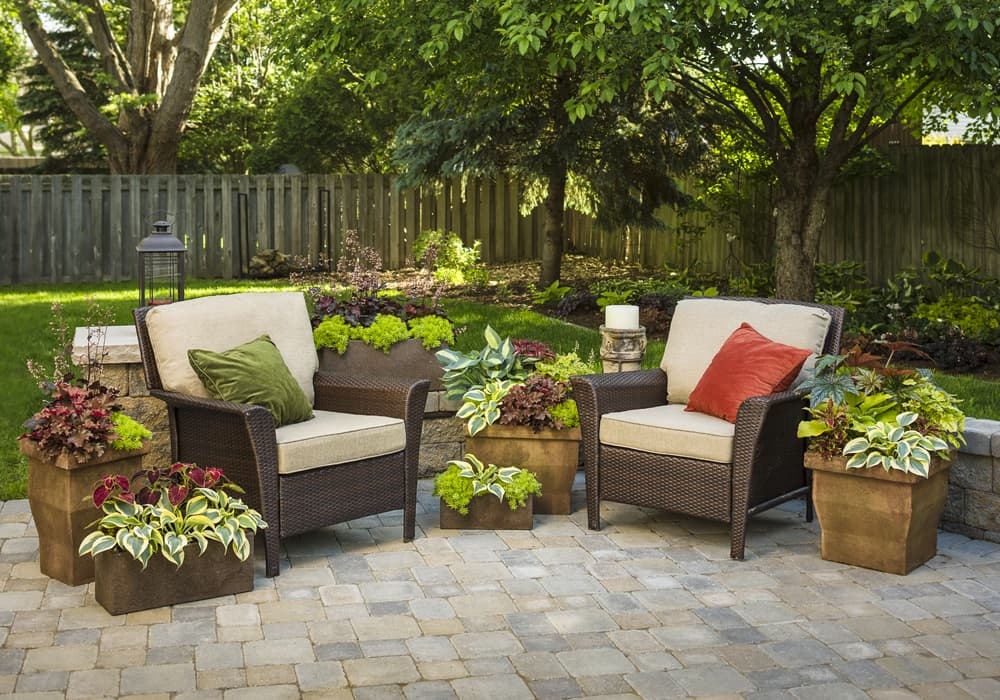 The focus is all about foliage on this shaded patio surrounded by mature trees. Most of what you see here are hardy perennials like Shadowland® hostas and Dolce® coral bells. The brightly variegated, bold textured hostas contrast beautifully with the smooth textured, earthy brown containers. Fern green and tomato-colored pillows pick up on the plant tones that are repeated in a different pattern in each container. The repetition of colors creates a harmonious look across the space. A few annuals were used to add a little extra pop of color and texture including Lemon Coral™ sedum, ColorBlaze® Apple Brandy® and Dipt in Wine coleus, and Pegasus® begonia.
Designing with Cor-Ten Steel Containers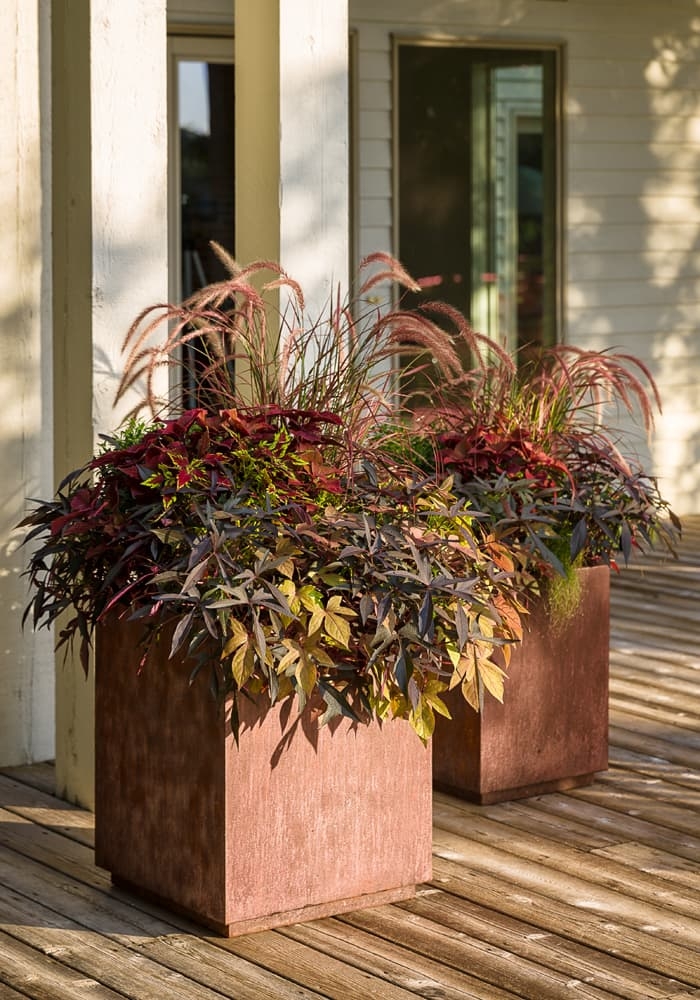 Sometimes it's the containers themselves that make the statement. Cor-ten steel containers have soared in popularity among those looking to create a modern industrial look in their gardens. This deck which receives about four hours of afternoon sun has few containers on it, but the ones that are there are massive. A simple mix of purple and bronze sweet potato vines and coleus fills the square containers, with 'Fireworks' purple fountain grass used as a thriller. These low maintenance plants will require little more than water and an occasional dose of water soluble fertilizer to maintain their lush appearance all season. Learn more about these cor-ten steel planters here.
Simple Breakfast Nook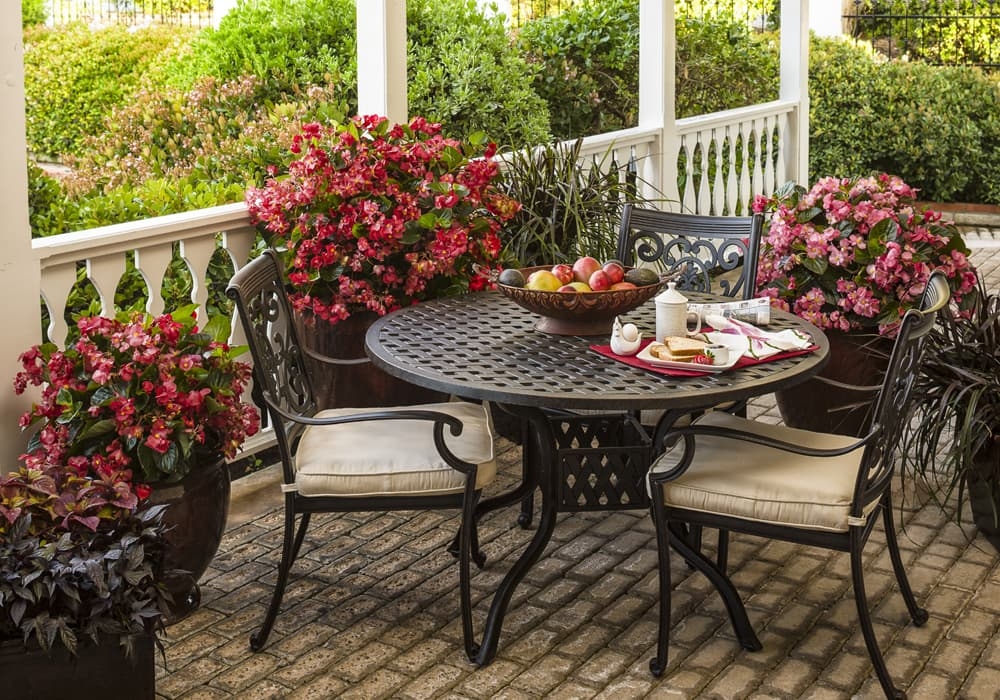 This small nook was carved out of a covered, mostly shaded back patio as a peaceful spot to enjoy a cup of morning coffee. Large pots of Surefire® Red and Surefire® Rose begonias placed around the table help to define the space and add a warm pop of color to an otherwise green landscape. Since each plant grows 1-2 feet tall and wide, you won't need many to fill your containers. Begonias are the perfect choice for covered, shaded spaces because they prefer some shade and don't need a lot of water. Especially if your climate tends to have frequent summer thunderstorms, you can keep your begonias dry by sheltering them under a covered patio or porch.
Using Chartreuse in Shade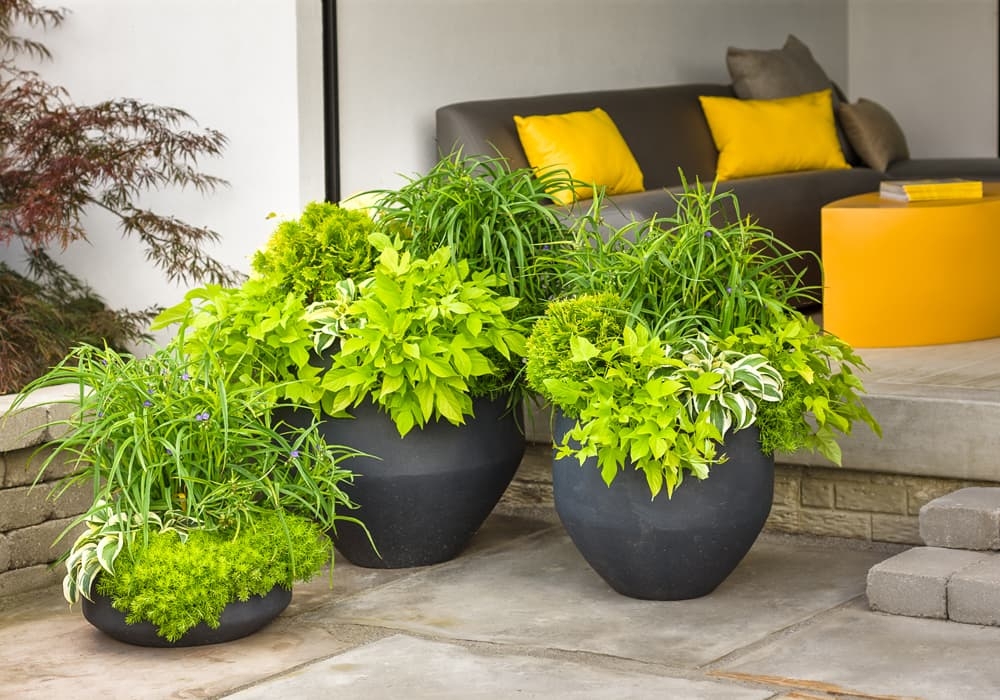 If you've dabbled with the color chartreuse at all in shade, you know how it can brighten up the space like a lightbulb. This chartreuse grouping glows like a spotlight on an openly shaded patio that receives bright but not direct light through tall trees that line the periphery of the property. If you look closely, you'll notice that the containers include a mix of annuals, perennials and shrubs with fabulous chartreuse foliage. Since the colors are similar, its their texture and size that create interest. The black containers add bold contrast. Get this look by combining 'Charlotte's Web' spiderwort, Sweet Caroline Light Green sweet potato vine, Lemon Coral™ sedum, 'Autumn Frost' hosta and Anna's Magic Ball™ golden globe arborvitae.
Want to find more plants for shade? Search our online store for these items: