Garden Crossings Saves Gardeners Money And Time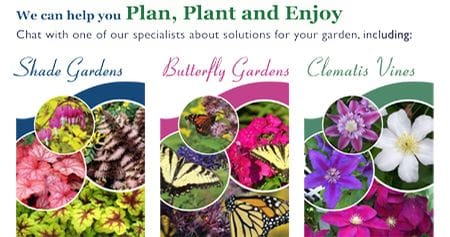 ZEELAND, Mich., April 25, 2011 /PRNewswire/ — More than ever before, homeowners turn to their gardens for relaxation and rejuvenation. Whether the garden is a spacious yard or a pocket-sized deck, these green spaces provide places to play, eat, rest and reflect. Unfortunately, most homeowners spend more time planning an evening out than their home oasis.
Rod Grasman, Garden Crossings owner, explains, "Properly planned, a beautiful landscape adds value to property through curb appeal, visual screening, energy savings, and reduced maintenance and resource use. By linking colors and styles inside and out, living spaces feel larger and more cohesive. Our program, 'Plan, Plant & Enjoy,' helps our customers save money and time."
Garden Crossings provides customers with landscape planning services. The assistance can be extensive, or simply a review service. Once people have a plan to follow, they make informed purchases that fit their budget and their lifestyle.
And, Garden Crossings' service is not just for large home landscapes.
"We have a program within the program called, 'Container Combos,'" offered Heidi Grasman, Garden Crossings co-owner. "Everyone loves containers, but they're especially important for small spaces. Containers can bring a sense of yard to an upper-floor deck. And, along with larger raised beds, containers make gardening easy for children and seniors."
More than 80% of Garden Crossings loyal customers order plants by mail or online. Garden Crossings' customer service and attention to detail and quality are legendary. Leslie, from Louisiana wrote, "I received my order yesterday and the plants are beautiful. The packing was excellent. Thank you for taking pride in your product."
The nursery's "Plan, Plant & Enjoy" theme continues through its website, www.GardenCrossings.com, with the 'Garden Planner' section. The section is packed with tried-and-true "Garden Combos," as well as practical tools like a "Plant Calculator," "Mulch and Soil Calculator," and a wealth of tips to care for your garden throughout the year.
The website's "Plant Search" feature helps gardeners find the perfect plant for their landscape as they can search by many characteristics including size, color, moisture and light needs and wildlife value.
For more information, contact Rod or Heidi Grasman at sales@gardencrossings.com.