National Garden Expert and Author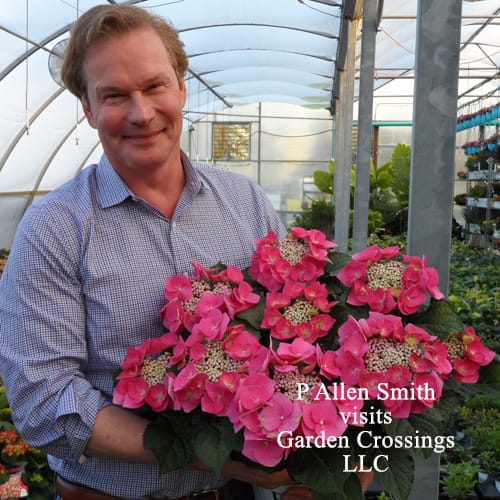 Zeeland, MI—Meet national gardening expert and author P. Allen Smith during the Garden Crossings 7th Annual Grand Opening weekend April 13-14. Garden Crossings, a retail and mail-order nursery in Zeeland, Michigan specializing in Proven Winners® annuals and shrubs, welcomes customers for a weekend of fun, friends, and the kickoff of spring 2012 gardening. During the Friday meet and greet with P. Allen, local radio station JQ99 will broadcast live from 6:30pm to 8:30pm. Garden Crossings will provide snacks, discounts, and to sign up for JQ99 Cash Cow Drawing. Customers are invited back on Saturday to browse among designed and planted containers and see what's new for 2012.
Gardeners anxious to get their hands in the dirt before the Grand Opening have several other chances to take advantage of the warmth and wonders inside Garden Crossings' 35,000 square feet of indoor growing space. On Saturday, March 24, customers can enjoy designing and planting their own containers during the Container Gardening Open House. Adults and children will each have their own areas in which to design and plant. Greenhouse tours will be available. Garden Crossings will grow the planted baskets for four to six weeks, and customers can pick them up when it is warm enough to enjoy them outside.
While customers around the entire United States order from the Garden Crossings online catalog, West Michigan-area gardeners can take advantage of special tours and events on-site at the Garden Center. Throughout the spring, Garden Crossings also hosts private events for groups looking for a fun and informative outing. Please call Heidi at 616-875-6355 to schedule your tour, container garden workshop, or other special garden event.
About P. Allen Smith
P. Allen Smith is in town for Proven Winners Outdoor Living Extravaganza in Grand Rapids, MI. P. Allen Smith is an award-winning designer, gardening and lifestyle expert and host of two public television programs, P. Allen Smith's Garden Home, P. Allen Smith's Garden to Table and the syndicated 30-minute show P. Allen Smith Gardens. He is the author of the best-selling Garden Home series of books published by Clarkson Potter/Random House, including Bringing the Garden Indoors: Container, Crafts and Bouquets for Every Room and the recently published cookbook, Seasonal Recipes from the Garden inspired by the abundance of food from his farm and a family of great cooks.
About Garden Crossings
Started in 2002 by Rod and Heidi Grasman, Garden Crossings has grown into the premier online retail garden center and nursery direct-shipping highest-quality annuals, perennials, shrubs, fruits, herbs, and vines. Garden Crossings makes new selections and introductions available to the consumer as soon as they're available, giving gardening consumers the chance to enjoy interesting and innovative plants several years before they are widely available in brick-and-mortar stores.
Based in Zeeland, Michigan, Garden Crossings has 35,000 square feet of growing space and 15,000 of retail shopping space. They are one of the top 30 online retailers in the "Watchdog 30" on Dave's Garden, out of over 7,000 listings. This is a combination of attention to detail, superior plant quality, tested shipping practices, and hands-on customer service.
For more information about Garden Crossings, please contact Rod or Heidi Grasman at 616-875-6355.