Heidi's 5 Favorite Clematis and How to Grow Them
Of all the plants I've seen at Garden Crossings, clematis are consistently some of the most impressive. Not only do they know how to grow a drop dead gorgeous, robust pot of clematis, but they also have one of the broadest collections I've seen. That's thanks to Heidi's passion for the plant and keen eye for exceptional new varieties to offer each year.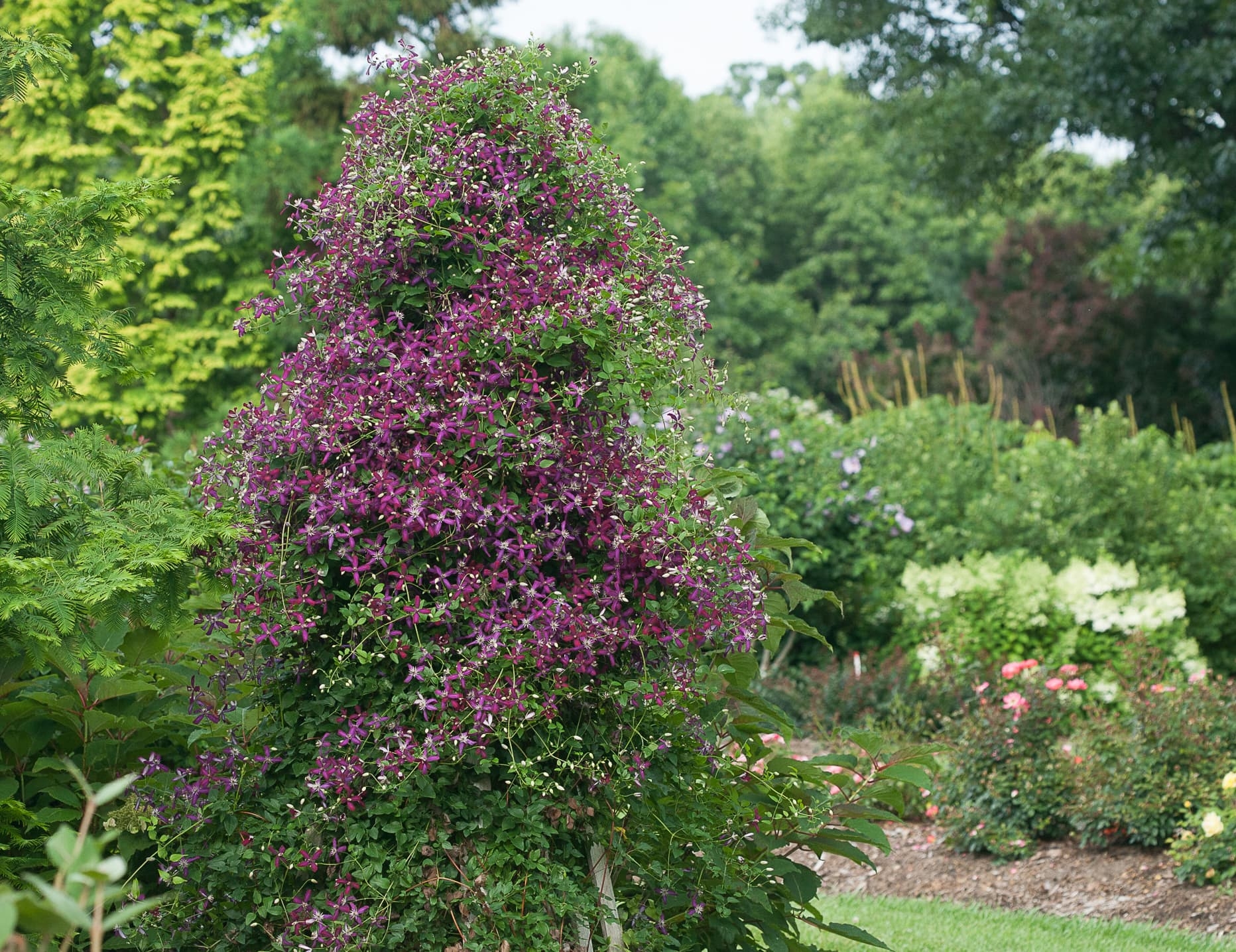 You'll find over 70 varieties of clematis available, including short ones and tall ones, spring bloomers, summer and fall bloomers, and rebloomers. There are traditional purple clematis, as well as pink, burgundy, lavender, blue, white and yellow flowered cultivars. Some have huge, blousy blossoms while others produce masses of small, intricate flowers. There are towering ten foot tall varieties for large trellises, arches and pergolas, and short two to four foot tall ones that are perfect for growing in patio containers. With such a diverse selection, there's truly a clematis (or two, or three…) for every garden.
I want one of each, of course. How do you choose between such gorgeous plants? So, I asked Heidi to weigh in and share five of her favorites with us here. It wasn't easy for her to choose either!
Heidi's 5 Favorite Clematis
#1 –
'Viva Polonia'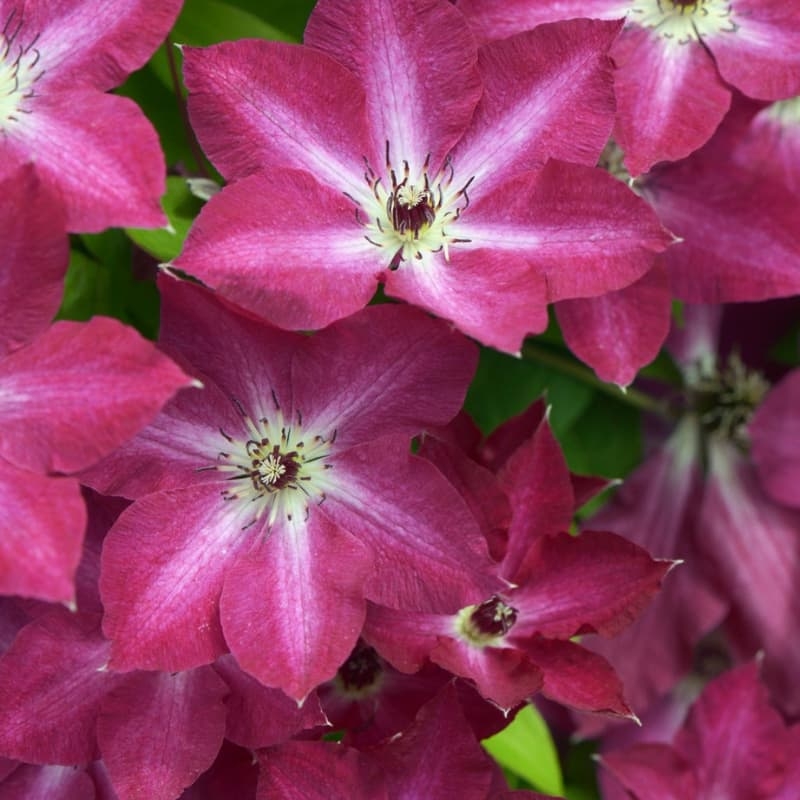 Why: Large, bold magenta red flowers with a white star patterned center stop you in your tracks!
Blooms: 4" flowers bloom in June and July, then repeat later in summer
Stats: Hardy in zones 5-9, 4-6' tall, pruning group 2
#2 –
'Roguchi'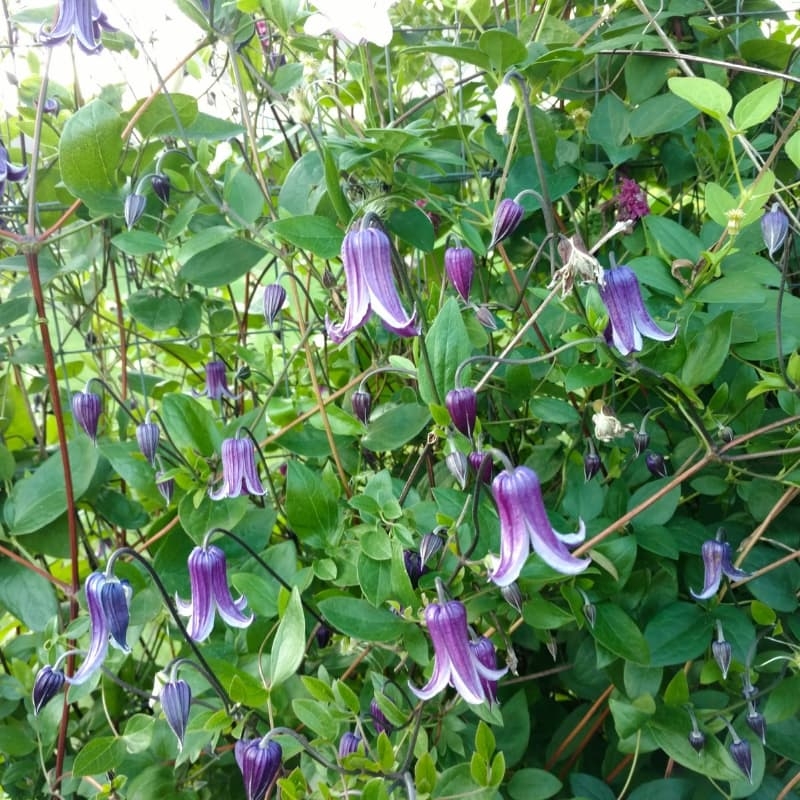 Why: One of the longest blooming clematis we carry, bearing intense blue
violet, dangling bell-shaped flowers all season. Looks fabulous grown up through an obelisk.
Blooms: 2-3", slightly fragrant flowers bloom from June through September
Stats: Hardy in zones 4-8, 6-9' tall, pruning group 3
#3 – 'Silmakivi'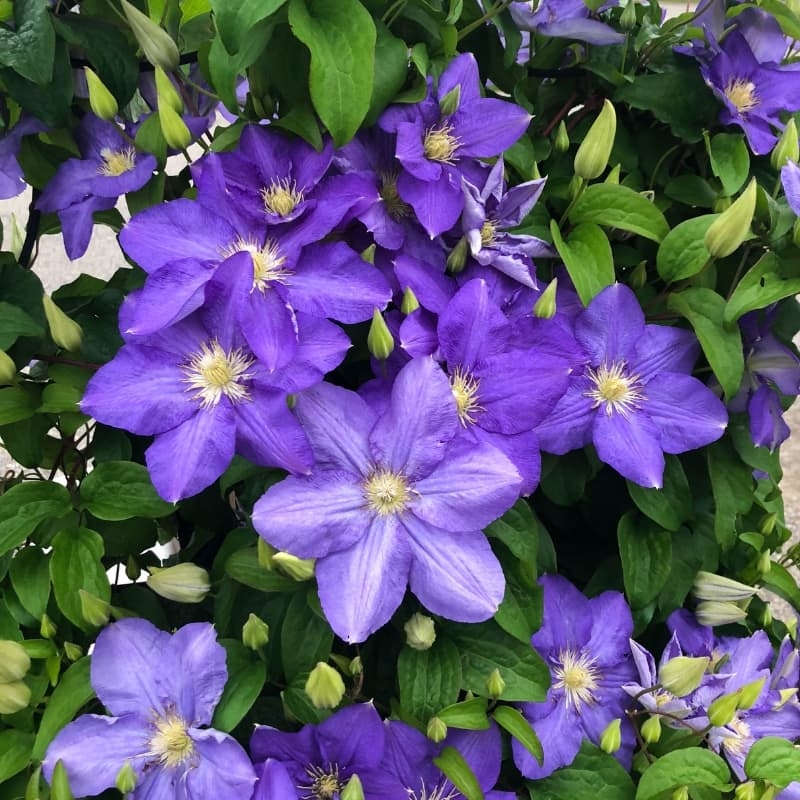 Why: A reliable, long blooming and prolific clematis bearing huge,
lavender blue flowers with a light blue midrib. It cheerfully greets Heidi at her mailbox garden every day.
Blooms: 6" flowers bloom from June through September; cut back after the first round of flowering to encourage strong rebloom
Stats: Hardy in zones 4-9, 6-8' tall, pruning group 3
#4 – Crystal Fountain™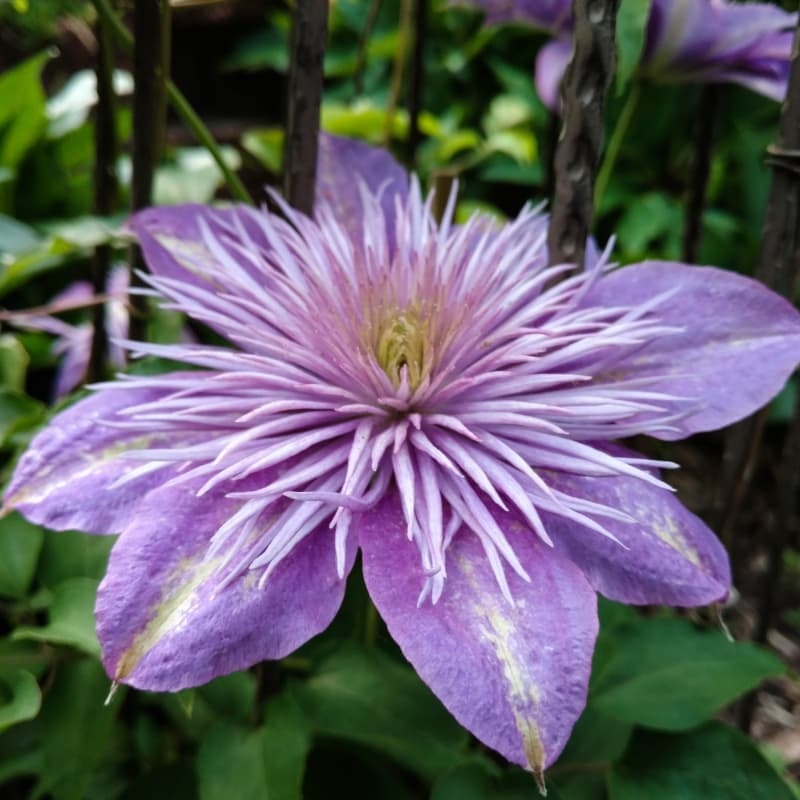 Why: A unique double flower form with lilac blue petals and a lighter blue, anemone-like center sets this one apart. Its shorter height makes it perfectly sized for growing in containers.
Blooms: 4-5" flowers appear early in the season, blooming first in June and repeating through September.
Stats: Hardy in zones 4-9, 4-6' tall, pruning group 2
#5 – 'Sweet Summer Love'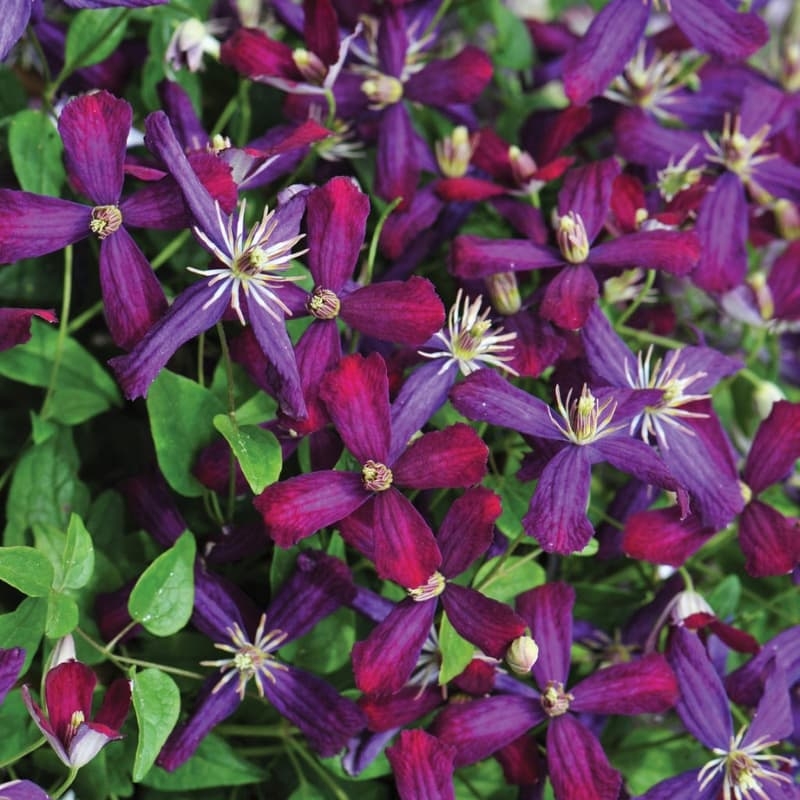 Why: Easy to grow and prolific, bearing fragrant flowers that open deep red and transition to deep purple for a bicolor effect.
Blooms: A flurry of small 1", star-shaped flowers cover plants from midsummer into fall
Stats: Hardy in zones 4-9, 10-15' tall, pruning group 3
Growing Tips for Clematis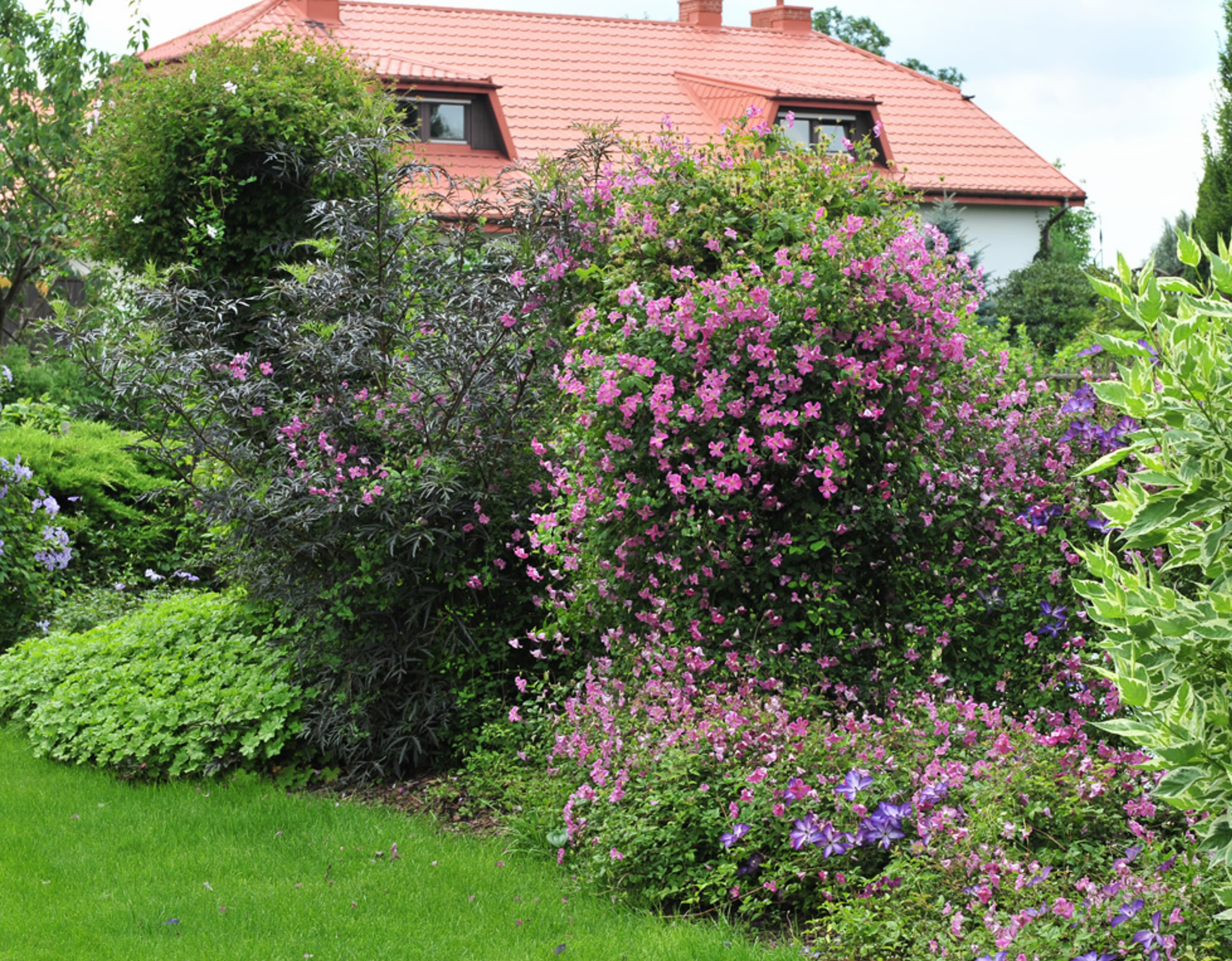 Hardiness – Clematis hardiness varies a bit by cultivar, so be sure to check the zone before you buy. Most are hardy in zones 4-9, but some can handle colder temperatures.
Exposure – Clematis will flower most prolifically if it is planted in full sun (more than 6 hours of sun per day) but it should also bloom reasonably well in part shade (4-6 hours of sun.) Many people recommend growing clematis with their "heads in the sun and feet in the shade." The main reason for this is to keep the soil cool and moist around the roots. Flower buds need sun to form, so they like their "heads in the sun."
Soil Moisture – Clematis thrives in rich, moist, well-drained soil. Add some compost or manure to the hole when planting, and topdress with more each spring. A 2-3" layer of mulch spread around the base of the vine will help to keep the soil moist and cool.
Planting – When you go to plant your clematis, you'll want to do it a little differently than typical perennials which are planted at the same depth they were in the pot. Clematis vines should be planted about 2" deeper than they were growing in the pot. That protects the crown and roots, and it helps to prevent clematis wilt, too.
Pruning – The best time to prune your clematis depends on when its buds are formed. To make it easy to know when to prune the specific cultivar you are growing, we've added the pruning group to each plant record under the "More Info" tab. You'll see it falls in Group 1, 2 or 3. Once you know its group number, click here and scroll down to the bottom of the page to find the corresponding pruning instructions.
Ready to go clematis hunting? Click here to explore our entire collection.
Want more details on clematis care? Click here.