How to Grow Hydrangeas in Planters
If this looks like your dream patio, read on to find out how to grow hydrangeas in patio planters.
Choosing Which Type of Hydrangea Works for You
Before you shop for hydrangeas for your patio planters, answer these two questions first: 1. What is your USDA hardiness zone?
2. What do you plan to do with it in the winter?
You'll see why knowing your hardiness zone is important when we get to question #2. For now, if you aren't sure what zone you live in, click here and enter your zip code.
Now, compare your hardiness zone to these types of hydrangeas that grow well in containers:
What does a hydrangea's hardiness zone have to do with overwintering in a container?
USDA zones describe where a hydrangea can survive when planted in the ground. If you plan to overwinter your hydrangea in a container, it's safest to choose one that is at least two zones hardier than your zone. For example, if you live in zone 5, only zone 3 smooth and panicle hydrangeas will overwinter for you in a container. A plant's roots are much more vulnerable to freezing when overwintered in a container than in the ground.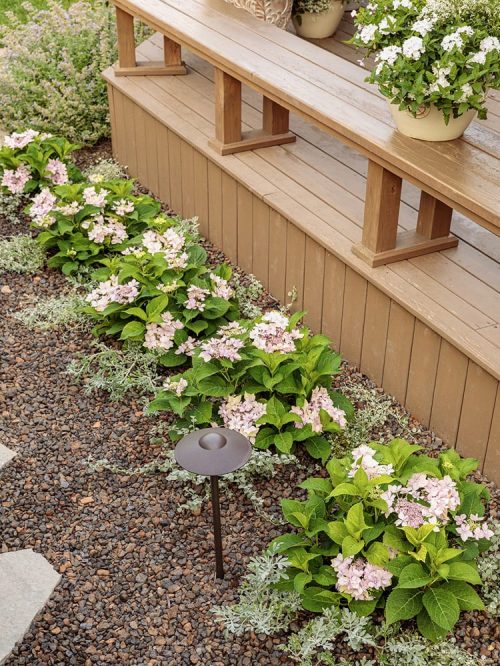 If you want to grow hydrangeas that aren't hardy enough to overwinter for you in your patio planters, plan to transplant them into the ground in the fall. Their roots will be more protected there. You could always pop them back out of the ground and back into your planters the following spring. That's what this homeowner did with her Tuff Stuff Ah-Ha® mountain hydrangeas pictured here.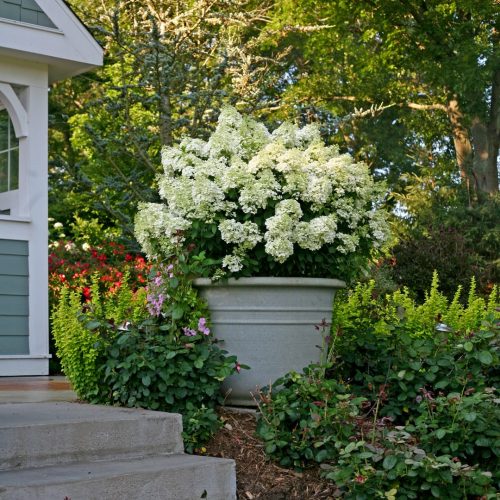 What size planter do I need for my patio hydrangea?
If you only plan to keep your hydrangea in a patio planter for a single season, your pot won't need to be much larger than the nursery pot the plant came in. It won't grow much larger that first season, so start with the biggest hydrangea you can to make a splash in a single season.
If you plan to overwinter your hydrangea in the decorative container and keep it for a few years, a 16- 24" pot is typically sufficient. Over the years, you can transplant your hydrangea into larger containers to accommodate its growth. The zone 3 hardy Bobo® panicle hydrangea shown here has been up-potted several times through the years in this zone 6 homeowner's garden.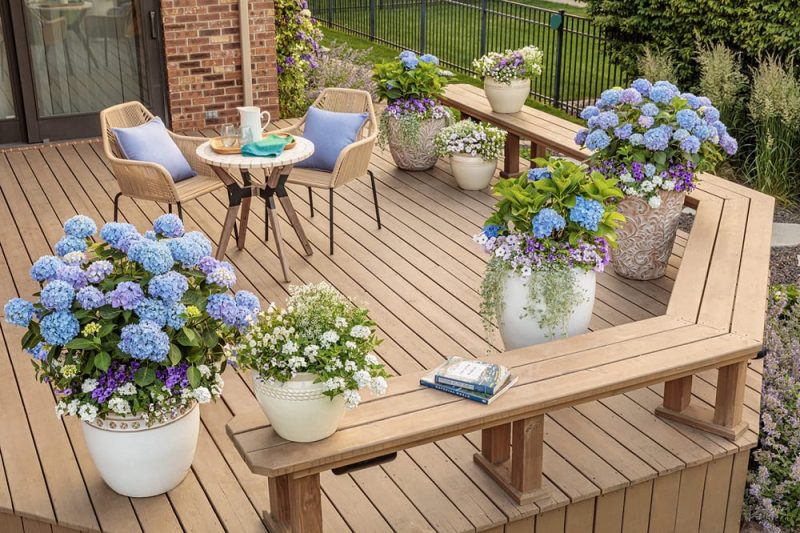 Watering, Feeding, and Choosing the Right Soil for Your Potted Hydrangea

WATER – Plants in pots typically dry out faster than those planted in the ground. Your potted hydrangea will like the same amount of moisture as if it were in the landscape. Bigleaf and mountain hydrangeas, for example, grow best in consistently moist soil both in the ground and in containers. Smooth and panicle hydrangeas need only average amounts of moisture wherever they are planted.
SOIL – Use a good quality potting soil, not garden soil, in your containers. Some people think that since they are planting a shrub, they have to use heavier soil, but this is not the case. The looser texture of the potting soil will help to prevent it from becoming too compacted in the pot. This will help the hydrangea's roots become well-established in the container.
FEEDING – Most good quality potting soils come with fertilizer already mixed in them. Also, any hydrangea you purchase will have fertilizer in the pot. Therefore, your new patio hydrangea will not need to be fertilized the first season. If you overwinter it in the pot, the following spring you can scratch a bit of flowering shrub fertilizer like Espoma's Plant-tone® or Rose-tone® into the top of the soil and water it in.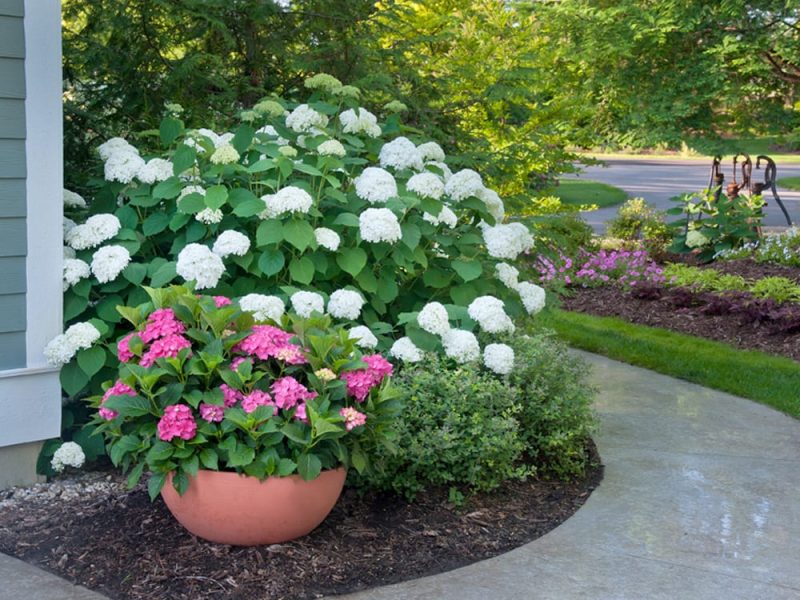 Why should you grow hydrangeas in patio planters?
Consider the many advantages of growing hydrangeas in containers:
You can enjoy them wherever you'd like them, whether it's up close on your patio or moved around to a different place in your landscape every year.

If your garden soil isn't conducive to growing hydrangeas, you can still enjoy them in pots.

No holes to dig or large space needed in the landscape.

They make a beautiful, low maintenance container planting.

You'll only need one plant to fill your patio pot.

You won't need to fertilize them every week like you do with annual flowers.