Light Up the Garden By Day
And the Sky By Night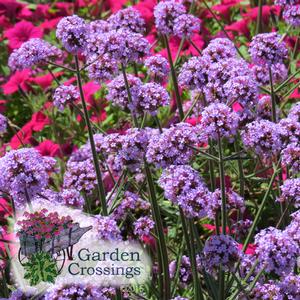 Meteor Showers and the color purple! Need I say more? Absolutely not! But I will. The most requested flower color of customers is purple. One of the most brilliant sights seen in the night sky are meteor showers. Put the two together and you have a masterpiece. Exactly why we need to talk about a new 2016 annual, Meteor Shower™ Verbena.
When I walked through the trial gardens at Four Star Greenhouse in the summer of 2015, Verbena Meteor Shower™ definitely drew my attention. I think this verbena is unique in its appearance. It is a full but airy annual that looks fabulous in the garden surrounded by other plants. Reaching heights of 20-30", Meteor Shower™ displays tall green stems topped with small round balls of several florets. Each sturdy green stem grows two other shorter stems to opposite sides. These florets remind me of the delicate tiny florets displayed on Butterfly Bushes. I love these delicate tiny flowers that singly form together next to other tiny flowers to form the small ball at the ends of the tall green stems of Meteor Shower™. This formation of these tall stems has been referred to as looking similar to lollipops. Beautiful and delicious looking!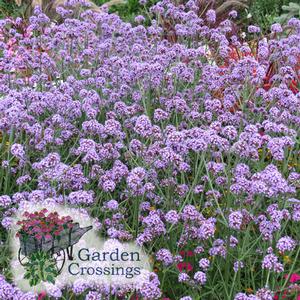 Verbena Meteor Shower™ exhibits light lavender florets that will be a butterflies dream. It is a deer resistant, full sun, part shade annual that looks great in the garden surrounded by other perennials or annuals as well as by itself in the landscape or container of your choice. It has movement in the summer breeze that will make your garden appear as if it is dancing in the wind. The sturdy green stems of this annual will make a great cut flower to bring inside and enjoy as a fresh airy table top decoration. What's not to love about having all natural, small purple lollipops in your home? Meteor Shower™ will make a great dried flower as well for use as decoration or craft projects. The fresh stems could easily be weaved into a beautiful crown full of flowers for a young girl to wear atop her head. With a pretty princess dress, you have a great photo opportunity to treasure forever!
An attribute that sets this Verbena apart from other Verbenas, is that it has little seed set and therefore will be less invasive. Heat loving and drought tolerant, with blooms appearing in the spring through to the first hard frost are some of the qualities you will love about Meteor Shower™. This annual is a definite thriller for any garden or container!