Beautiful Baskets After Dark
Lighted Hanging Baskets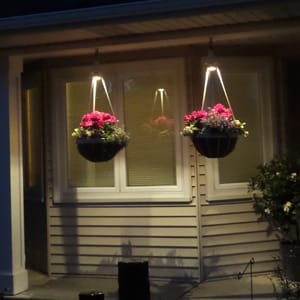 Have you ever considered enjoying the beauty of your hanging baskets once it gets dark? Are you the type of person who forgets to water? If either of these sound like you, I want have just the solution! I would like to introduce to you the "i3 Planters", to light up your night life and take the pain out of watering!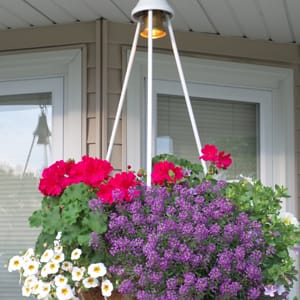 The i3 Planters are a gorgeous hanging basket solution for both indoors or out! i3 Planters have a unique combination of a bell shaped low voltage lighting fixture, hanging basket and the patented Aqua-Air™ liner to make your hanging baskets hassle free. It can also be easily attached to your existing sprinkler system or attached to a garden hose for automated watering. i3 Planters are the perfect solution for busy gardeners but yet it's automatic lighting creates romantic ambiance at night, safety around your home, and adds elegance to your garden or landscapes.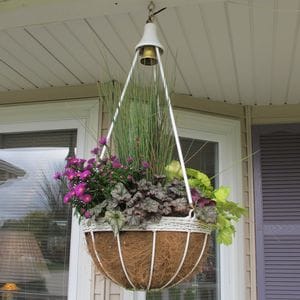 The i3 Planters were designed with you in mind. There are 2 great benefits that I would like to tell you about.
The first, is the self-watering system that is included. Each basket comes with 100 foot of 1/4 inch irrigation tubing. This tubing can tap into your existing sprinkling system or can be hooked up to a water timer on your faucet. You cut the tubing to the desired length, hook up to a timer and let it go. I do recommend that you watch the timer/ water for a few days until you get the feel for how long your timer needs to run. We recommend running your timer for shorter periods of time twice a day, as opposed to one long shot once a day. This water system takes the pain out of having to remember to water each day, but please keep in mind that you still need to check up on it about once a week to make sure it is watering properly and as needed for your climate.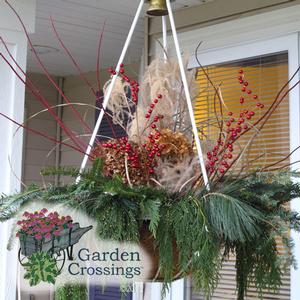 The second feature and most noticeable is the low voltage lighting that glows over this basket in the evening. Each basket comes with a 3 foot low voltage lead wire that can be hooked into your existing low voltage landscape lights. Or if you wish, for a small up charge, we can provide you with a longer wire that you can hook up to a low voltage timer. The beauty and ambience of your basket in the evening will have your friends and neighbors talking. You have made the investment into your flowers so why not enjoy them at all times of the day and night.
The i3 Planter looks amazing lining walkways, on front porches, or hanging around your pool landscape.
For more information on the i3 Planters follow this link, or give Garden Crossings a call, 616-875-6355.