It's a sure sign of fall when garden mums start popping up in street plantings and store window boxes around town. Decorating with fall blooming mums is a quick and easy way to freshen up your containers with the colors of the season. New this year, we're offering a broad array of single and double-flowered garden mums for fall delivery. Inventory is limited and will sell out, so choose your favorites quickly!
Mums will beautifully complement your fall décor on your front porch, tabletop and patio. You could also plug them into your landscape in place of summer annuals to keep the color going until winter. Here are a few ideas to get your creativity rolling.
Go the traditional route with reds, oranges and golds.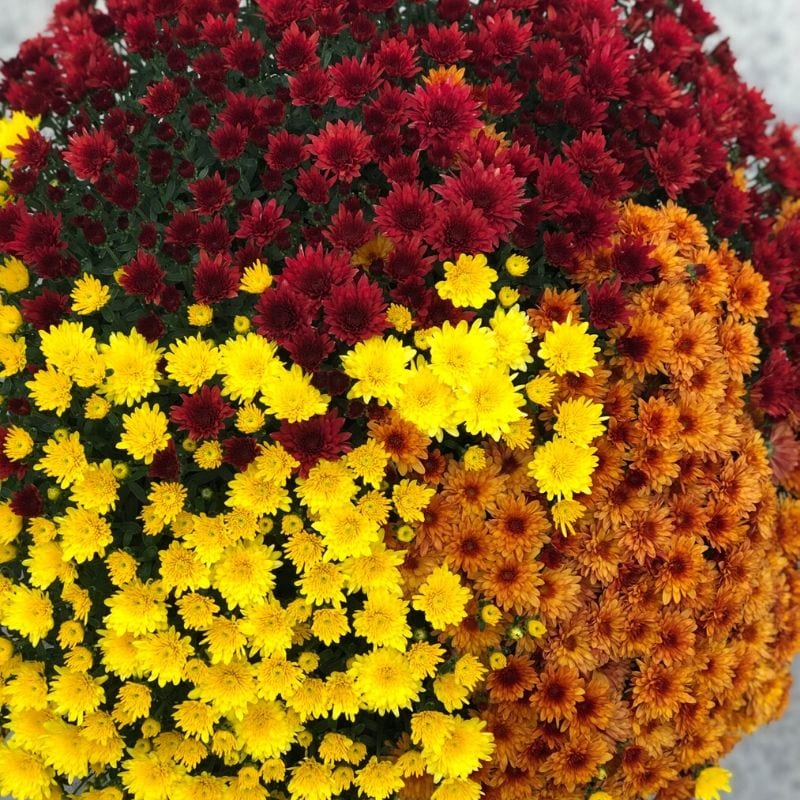 Decorating with traditional fall colors that echo the changing trees is a no-fail way to go with garden mums. Deep reds, orange-bronze and rich golds bring a feeling of warmth to a space despite the chilly fall air. Fully double blossoms are long-lasting and saturated in color that goes until the snow flies. Plant a trio of fiery-hued mums in one large container or give each one its own pot and group them closely together. Or, pick up a pumpkin from your local farmer's market and hollow it out to use as a temporary planter.
Prefer pink? Here's something a bit less traditional.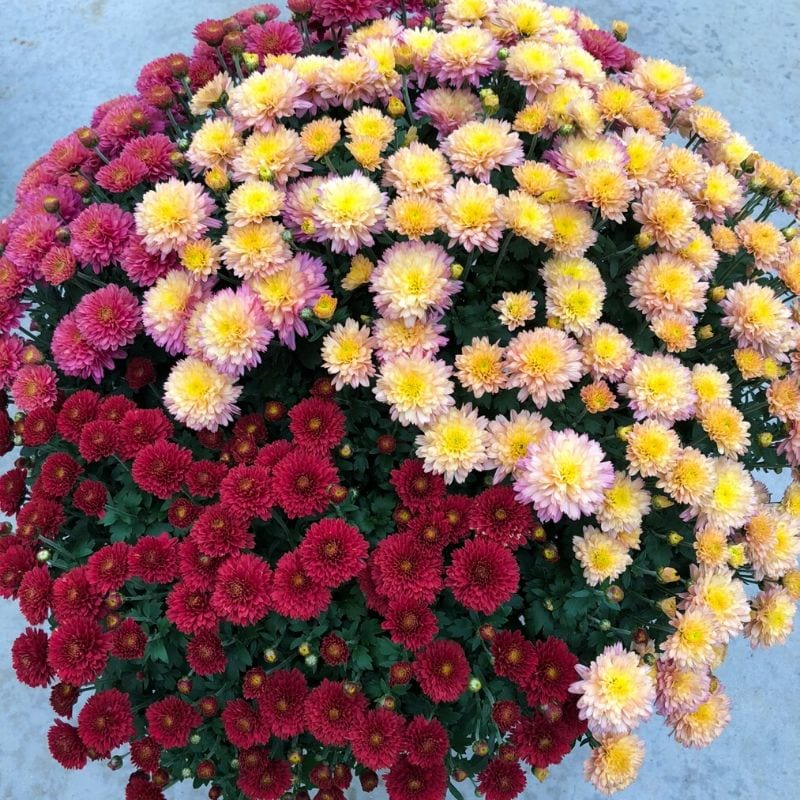 If reds and oranges just aren't the right look for your porch or patio, try pinks and purples instead. If you loved those colors in your summer containers, there's no reason you can't keep that look going with fall mums. Try combining single and double varieties to vary up the textures and flower shapes if you will be planting them all together in one large container. Alternatively, you could choose one flower shape in three different colors to create a coordinated trio.
Supertunias still going strong this fall? Keep them and add fall mums as an accent.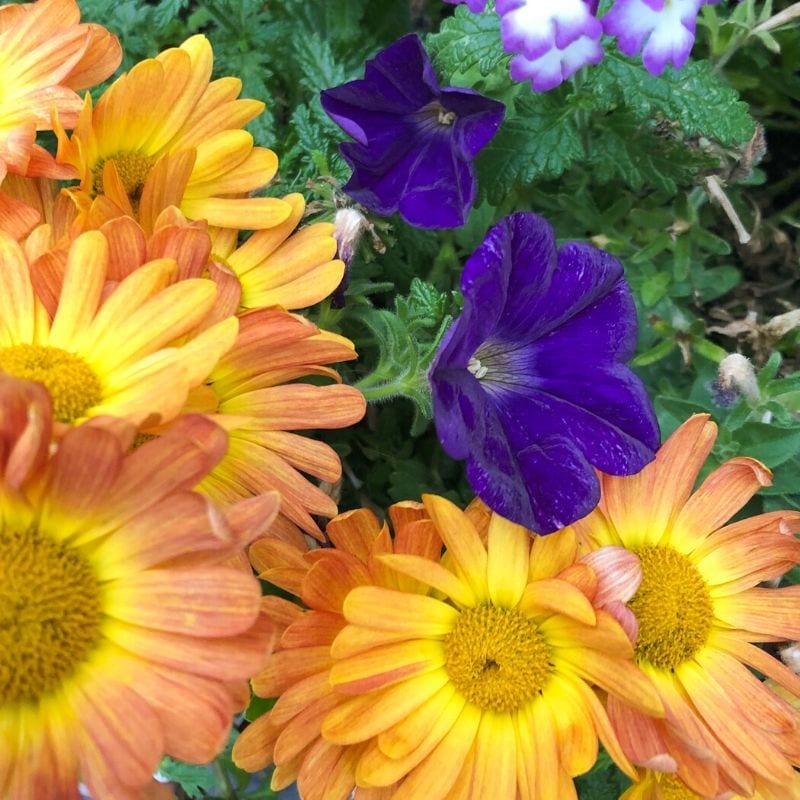 If it's not time yet to part with your prolific pots of Supertunias but you'd prefer an updated look for fall, add a few pots of garden mums as an accent. Here are a few pairing suggestions:
Supertunia Vista® Bubblegum®: Pair with 'Wanda Purple', 'Flamingo Cranberry', 'Flamingo Pineapple' and 'Sparkle White' mums
Supertunia® Bordeaux™: Pair with 'Orange Zest', 'Key Lime' and 'Wanda Red' mums
Supertunia® Black Cherry®: Pair with 'Fireglow', 'Paradiso Bronze', 'Sundance Yellow' and 'Edana Red' mums
Add a fall-blooming ornamental grass as an accent.
Picture: A grass from the list below
Our fall blooming annual fountain grasses and leatherleaf sedges make the perfect accent for lower growing, mounded garden mums. Plant one extra large container with the grass as a centerpiece surrounded by mums or grow the grass in a separate container grouped together with your mums. The grass will add height, fluffy texture and movement to the arrangement.
Choose from these Graceful Grasses®:
Toffee Twist sedge – A finely textured, copper colored, mounding grasslike plant
Fireworks fountain grass – A variegated selection of traditional purple fountain grass
Red Riding Hood fountain grass – A shorter version of traditional purple fountain grass
Rubrum fountain grass – Traditional purple fountain grass
Pop a few mums in the landscape to pair with fall blooming perennials.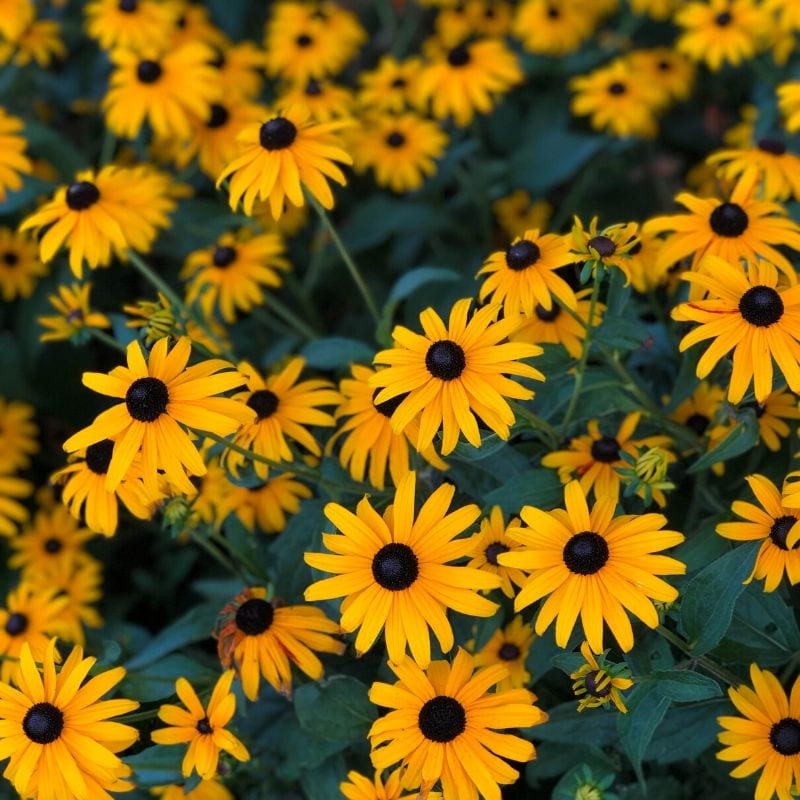 This is the perfect time of year to swap out a few of your summer annuals that have lost their luster in the landscape for the fresh color of garden mums. A few perennials that bloom in fall or have great fall foliage and enjoy similar growing conditions as garden mums include: sedums, maiden grass, switch grass, fountain grass, little bluestem, perennial sunflowers, asters, Japanese anemones, blanket flower and black-eyed Susans.
Note: Though garden mums are technically perennial in some zones, they are mostly intended to be enjoyed as fall blooming annuals. If they do overwinter for you, it's a terrific bonus.