October: Gardening Activities
Our Average Daily High Temp for October is 58°F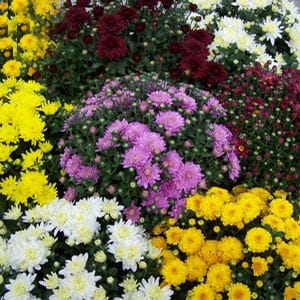 Though many of us hate to see it come, winter is on the way, but not before we enjoy the lovely, crisp autumn days of October.
Now is the time to plant those spring-blooming bulbs such as tulips, crocus, daffodils, and hyacinths. It's easy to tuck them into spaces between perennials and at the foot of ornamental trees. The more the merrier – in spring, anyway – when they're all in bloom!
Prune your roses back just enough to keep long canes from whipping about in winter winds. Mulch around the bottom, mounding the mulch up as high as five or six inches around the canes.
You can prune perennials after a killing frost, unless you want to leave them for winter interest or for birds to munch on the seeds. Echinaceas and ornamental grasses look especially nice. Remove mushy foliage from plants like hostas to avoid providing a haven for overwintering insects or pests such as slugs.
Now is a good time to plant new trees and shrubs. They're going into dormancy and will tolerate the winter well. Water thoroughly. Make sure existing trees and shrubs are well hydrated as they enter the winter months as well.
Rake excess leaves from the lawn and from flower beds. A little left for winter protection is fine, but a heavy wet layer of leaves can be smothering for some perennials. Shredding leaves with the lawn mower can provide a nice mulch and when added to the compost pile, will facilitate decomposition.
Clean your garden tools when you finish with them before storing. This will not only help keep them in good working order, but they'll be ready to go in the spring, when you're so busy doing other garden tasks.
Clean out pots that held annuals and store them for the winter, especially if they're made of pottery or clay. Leaving these outside all winter may cause them to break from the freezing and thawing cycles.
Cut back on feeding of houseplants as they go into a somewhat dormant state for winter. Growth will be less and so are their needs. Home heating may dry out the air, so lightly mist plants that like higher levels of humidity to help prevent excessive drying.
It can be helpful to cover shrubs such as azaleas by wrapping them in burlap. This allows air and moisture to get in, but will protect the shrub from harsh winter winds and scalding sun.
To-Dos:
Plant spring-blooming bulbs.
Prune roses and mulch them for winter.
Cut back perennials and compost the trimmings. Leave some for winter interest, if desired.
Plant new trees and shrubs. Water well.
Rake excess leaves and compost.
Clean garden tools before storing for winter.
Clean out containers and store inside.
Reduce feeding of house plants for the winter.
Cover tender flowering shrubs such as azaleas with burlap to protect from harsh winter conditions.