Pantone Color of the Year-2016
Flower Addition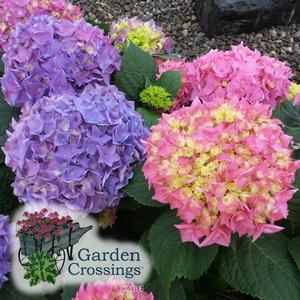 2016 Pantone Color(s) of the year, Rose Quartz 13-1520 and Serenity 15-3919 a great combination and easily found in the garden. One plant variety that come to mind that offers both of these great colors in potentially one plant is the Big Leaf Hydrangea. Creating a soothing sense of order and peace, the hydrangea offers a perfect balance for your garden.
A few hydrangeas that come to mind that offer the Pantone 2016 colors of the year Rose Quartz and Serenity are: L.A. Dreamin'™ 'Lindsey Ann' Hydrangea, Let's Dance® Starlight, Cityline® Rio and Let's Dance® Rhythmic Blue™. Here is an upfront disclaimer, the coloration of the flowers is greatly influenced by the acidic properties of the soil where they are growing. Plants growing in acidic soils tend to produce violet or blue flowers. Conversely, plants growing in alkaline soils tend to produce pink flowers. Hydrangeas create a bold statement for gardens and landscapes alike. Most of the Big Leaf Hydrangeas that Garden Crossings carry state 2-4 foot tall and wide, a nice compact size. The large blooms start off a soft green color and as they age will take on a blue/purple color or a soft to bright pink color. In some instances one plant will give you both pink and blue shades. The blooms of Hydrangeas are great for cut flower bouquets as well as in dried flower arrangements.
Let's take a closer look at Big Leaf Hydrangeas. The Cityline® series of Hydrangeas are typically 3-4 foot tall and wide and bloom mid to late summer. They produce large flowers that form off of the previous season's growth. This tip is meant to inform you that when planting the Cityline® series be sure that you do not prune them much after the beginning of August. They are hardy in zones 5-9 but we do recommend if you are in zones 5/6 that you may want to cover/protect your plants during the winter to protect the buds that were set in the fall.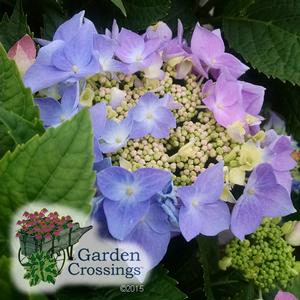 The Let's Dance® series is known for its reblooming properties. Hardy down to zone 5, this is a great choice for cooler climates as well as the warmer areas. The Let's Dance® series bloom off of both new and old growth. We still do not recommend trimming much after August but if it happened on accident or you just feel that your plant needs to be pruned back, no worries. You may have sacrificed your first round of blooms for the new season but since this is a reblooming hydrangea, your Let's Dance® plants will produce flowers on the new growth later in the summer.
Hydrangeas are a magnificent shrub with beautiful blooms. Planted in a part shade location that gets adequate water is just the spot a Hydrangea loves. Now is the time to select which Hydrangea will give you the Pantone 2016 color of the year!
***For additional information on Hydrangea Care