Romantic West Michigan Bed & Breakfast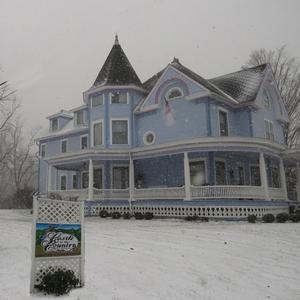 Are you planning a getaway to West Michigan and need a suggestion on where to stay? This Fall Rod & I stayed at a quaint Bed and Breakfast, nestled out in the country in Allegan, Michigan. This beautiful Bed and Breakfast is called Castle in the Country.
When we arrived we were warmly greeted by Ruth, the B&B owner. She went over all that is available at The Caste in The Country along with informing us that there were a few rooms open and if we would like to take a look at them we could choose which we liked best. Our initial thought was to stay in the castle, the room we had initially selected was beautiful. Then we went over to the Castle Keep to check out a few more rooms. The room we decided on was the Sir Lancelot Suite located in the Castle Keep. Our initial room in the castle was amazing, but what drew us to the Sir Lancelot Suite was the amazing view. The suite had several windows that overlooked a very large pond that had wildlife around it. Some of the amenities that our suited included were: a large two person hot tub, a gas log fire place that could be viewed for multiple sides, a large shower that included multiple shower heads, and a very comfortable king size bed with high quality sheets and bedding.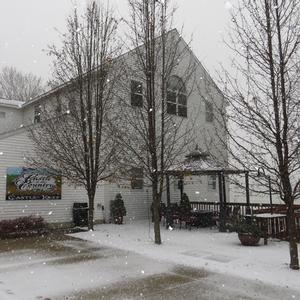 When looking at the few rooms that were available we noticed each room was uniquely decorated in several different styles. Bold, vivid colors created a welcoming feeling along with furniture that fit the style of the room. Ruth decorates each room in the Castle and Castle Keep and has a gift of putting things together. Within the Castle and Castle Keep there are sitting areas for reading and relaxing along with a large dining room set up with table set for two. There are a few breakfast seating time options based on what works well for you. We wanted to have a no rush morning so we choose a 10am breakfast. We were once again greeted by Ruth as she showed us to our table. Breakfast is unique each morning and freshly prepared from scratch by Herb, Ruth's Husband. All I can say about the breakfast is that it was amazing! Herb Scones, strawberry French toast, fresh fruit, and orange juice, it was delicious!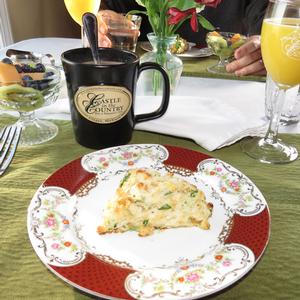 After our delightful breakfast was over it was time for us to leave our romantic getaway at the Castle in The Country. As we departed this hidden West Michigan treasure, a fresh blanket of fluffy snow had just fallen adding even more beauty to this luxurious home away from home. In any season, there is beauty at The Castle in the Country.