Sunjoy® Berberis Colorful, Low Maintenance Shrubs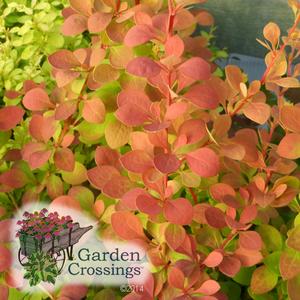 Planting shrubs in the garden or landscape can be an easy solution to deer problems and high maintenance plants. Barberry Shrubs are a particularly good choice if deer are a constant problem for you. Bring a variety of color to your garden, as well as low maintenance, with Sunjoy? Barberry shrubs from Garden Crossings.
There are many great attributes of Barberry Shrubs. One great feature of the Barberry Shrub is that they have year round interest due to the rich colors they exhibit. Colors range from red, yellow, orange, green, golden to almost black. And that's not all, these colors transform from the new growth in the spring to the more mature growth in the fall. Adding a mixture of these different color Barberry Shrubs will add varieties of color to your garden or landscape. Some Barberries also adorn themselves with berries that songbirds will gather to for a delicious treat.
Barberry Shrubs are deer resistant which makes them an always welcomed plant in the garden or landscape. The thorny stems of the Barberry also make it a good choice for planting in areas where you would like to keep unwelcomed guests out. For instance, planting in front of windows or as a hedge. They also make excellent border shrubs or even container plants for wherever you would like to add a "pop" of color.
You will also like the adaptability of Barberry Shrubs as they are able to grow in just about any sunny, well drained soil location. Maintenance of these shrubs is easy as they may need pruning occasionally in summer for shape. These shrubs are grown ideally for their colorful foliage and ease of gardening care.
One Barberry I would like to mention is Sunjoy? Tangelo Berberis, which is a Proven Winners? Colorchoice? Shrub. Tangelo displays excellent color with its citrusy orange leaves outlined in chartreuse green. Forming a nice mound reaching 3-4' high and wide, this shrub has many possibilities in the garden or landscape such as borders, mass plantings, structure or specimen plants as well as container shrubs. With trimming, you are able to shape Tangelo into any creation you desire. This deer resistant shrub offers seasons of interest as well as attracting songbirds with its berry producing abilities. This native shrub also makes a delightful, colorful cut foliage to bring indoors and display. Plant Tangelo in full sun with moderate soil moisture. Once Tangelo is established, it is drought tolerant. Another very likable quality of Sunjoy? Barberry Shrubs is that they are Wheat-Rust resistant.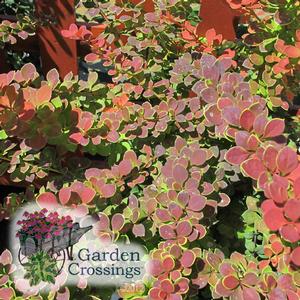 There are a few different Barberry Shrubs that I would like to briefly mention and they are Sunjoy? Mini Saffron, Sunjoy? Mini Salsa, Sunjoy? Gold Beret, and Sunjoy? Gold Pillar. The first three are smaller Barberry Shrubs ranging from 6"-2' tall and the last displays a more pillar like growth habit reaching 3-4' high. Barberry Shrubs offer different sizes and habits to choose from as well as an array of colors. Planting shorter varieties in front of taller ones has a nice graduation effect and will aid in a wider border for larger landscapes. Planting shorter varieties around taller ones will create a nice Island effect to be seen from all directions.
Do not let deer and high maintenance plants discourage you from planting the colorful, easy to care for garden or landscape you desire. Be sure to check out the wide range of colors and heights available in our Sunjoy? Barberry collection!