Sustainability Efforts at Garden Crossings
At Garden Crossings, we are in the business of helping people beautify their world with flowers and plants. We're part of what's known as the "green industry" which is made up of growers and garden centers that produce and sell live plants. But there's another reason we are so "green"—our sustainable way of doing business. Here's a look at just a few of these efforts.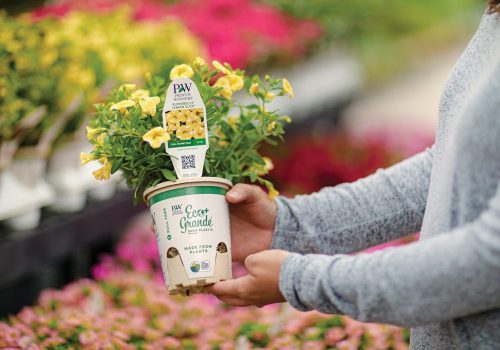 Sustainable Containers
When you receive your plants from us or visit us at our retail store next spring, you'll notice that all of our Proven Winners 4.25" potted annuals are now grown in the new Eco+ GrandeTM container. This fully compostable container is made out of the starches in U.S.A. grown field corn. The pot looks and feels like plastic but actually contains no plastic at all. With heat and moisture over time, it will break back down into its inert components.
In addition, the Eco+ Grande container has organic nutrients built right into its walls. As the container begins to decompose, it releases those nutrients to your plants to help them grow. This can help cut down on the amount of synthetic fertilizer you use in your garden.
To date, the Eco+ Grande container is only available in the 4" size for all of our annuals. In the future, we anticipate seeing additional sizes becoming available for more of our plants. The plastic containers we currently use are 100% recyclable and made of a minimum of 30% recycled material. We recycle all of our extra plastic pots and hope you do too.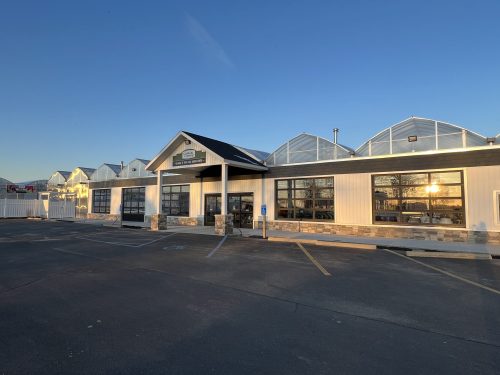 In many of our greenhouses where we grow the plants we sell and ship, the sides of the greenhouses can be rolled up or the roof can be vented to increase air circulation. This keeps us from having to use energy to run our greenhouse fans so often. The ventilation also helps to prevent disease by keeping the air flowing across the plants. This reduces the amount of fungicide used in our greenhouses.
New for Spring 2022, we installed large, glass rollup doors across the entire front of our garden center. These west-facing doors let the sunshine in which warms up our retail store. That allows us to keep the thermostat down a tick or two during certain times of the year to save energy.
In our shipping department, we reuse all of our shipping pallets which cuts down on how many new ones need to be produced for our use. We also recycle all of the cardboard we possibly can in our shipping operations.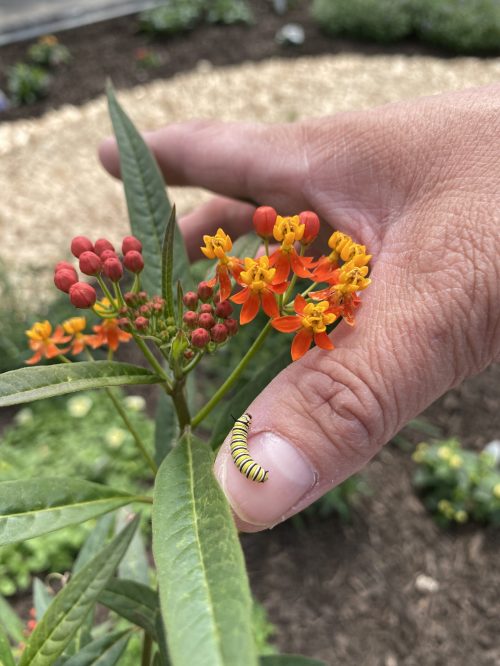 Supporting Pollinators
In 2020, we built a butterfly house at our garden center in Zeeland, Michigan. We've planted it with nectar and host plants for monarch butterflies which we raise here ourselves every summer. It's great fun to watch them evolve from caterpillars to chrysalises to adult butterflies! If you ever find yourself in our area, we invite you to stop by and learn more about raising butterflies.
When pest control is needed in the butterfly house, we use beneficial insects and organisms (also known as "biologicals") as a natural solution that won't harm the butterflies. Spider mites, thrips and aphids thrive in the warm, humid environment of the butterfly house, but they can all be controlled without pesticides. See how that works here.
To coincide with our new butterfly house, we have begun selling a number of native species and cultivars of native plants in our garden center and by mail order. Explore those plants here. We are excited to see our customers' interest in growing milkweed host plants increase, as there was a time not too long ago that this important native plant was not considered "garden worthy".
In addition to selling native plants, we have also greatly expanded our gardens here around our nursery to include hundreds of different kinds of plants for pollinators. We invite you to come and visit us and walk through our living catalog along with all the butterflies, bees and hummingbirds. It's great fun for the whole family!
Thank you for choosing Garden Crossings as your trusted source of garden plants. It is an honor to help your garden grow!